Investors have long flocked to aerospace companies, eager to back visionary projects that may or may not get airborne.
The romanticism of flight draws the dollars. So does the sector's ability to connect the world, and the sheer marvel of soaring above the earth.
In recent years, the start-ups du jour have been developers of electric aircraft, including fixed-wing types and electric vertical take-off and landing (eVTOL) aircraft. The companies say their concepts can transform short-distance travel.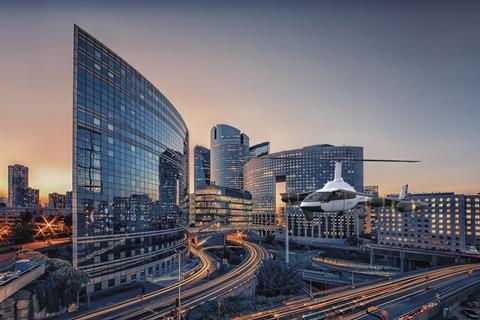 The visionaries will be back at NBAA-BACE in Las Vegas in October, grouped in the northwest corner of the show floor in a section called the "AAM & Emerging Technologies Zone".
Such entrepreneurs have been mainstays at NBAA shows for several years. But since 2019, despite the pandemic, the electric-aircraft sector – also known as advanced air mobility (AAM) – has expanded like a rocket-powered balloon. Easy access to capital and social pressure to curb carbon emissions have helped to fuel the rise.
Developers, now racing toward ambitious service-entry goals, have recently announced billions of dollars in new investments and billions more in purchase commitments. Several have recently embarked on efforts to become publicly traded, jumping aboard the so-called "SPAC" bandwagon. Special-purpose acquisition companies are shell companies established to bring promising start-ups public.
Still, much about electric aircraft remains unproven. Analysts question if designs can be financially successful, either as air taxis or business or executive transports. They cite technology and infrastructure hurdles, certification challenges, questions of public acceptance and the enormous cost of developing and producing a new breed of aircraft.
"Thanks to vast pools of cash sloshing around in the economy, AAM concepts are now proliferating," Teal Group analyst Richard Aboulafia wrote in a July paper. However, he notes: "The bigger the bubble, the bigger the collapse."
Aboulafia questions if start-ups can ever sell enough eVTOL aircraft to offset exorbitant development and production costs.
BACK AT NBAA
Exhibitors at the show this year will include electric-aircraft developers Bell, Jaunt Air Mobility, Kitty Hawk, Overair, Samad Aerospace and XTI Aircraft, according to NBAA.
The companies are targeting similar markets, but with differing designs.
Jaunt, for instance, is developing Journey, a "slowed-rotor compound" all-electric aircraft designed to take off vertically using a main rotor, then transition to forward flight, propelled by wing-integrated propellers. It will have a 70-87nm (129-161km) range and a top speed of 152kt (282km/h), Jaunt says.
Jaunt's partners include BAE Systems, which is helping with flight controls, power management and energy storage, and CAE, which is developing an engineering simulator. Jaunt aims for Journey to be certificated in 2026 and to enter service in 2027.
Bell, which made a splash unveiling its air taxi concept Nexus in 2019, will be back at NBAA. Originally designed as a hybrid-electric aircraft with six ducted fans, Bell has since tweaked Nexus to its latest "4EX" variant, which has four fans and an all-electric propulsion system.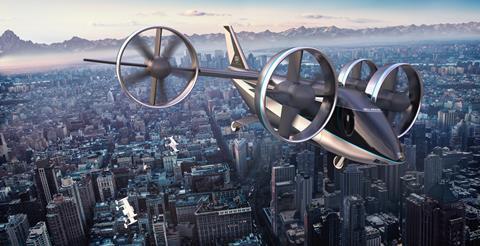 Kitty Hawk is developing a single-passenger, eight-propeller eVTOL called Heaviside. Kitty Hawk also formed California eVTOL maker Wisk Aero through a joint venture with Boeing in 2019. Wisk is developing a passenger eVTOL model and plans to start a trial programme in New Zealand.
California-based Overair is developing a five-passenger, four-propeller eVTOL platform called Butterfly, targeting first flight in 2023, US Federal Aviation Administration (FAA) certification in 2025 and service entry in 2026.
UK company Samad, meanwhile, is developing e-Starling, which it calls the "world's first hybrid-electric business jet". The five-passenger aircraft will have four ducted fans, cruise at 250kt and have 540nm of range, the company says.
Another exhibitor, Colorado-based XTI, partnered this year with public holding company Xeriant Aerospace to help develop a fixed-wing, hybrid-electric aircraft called the TriFan 600.
In a January report, consultancy Deloitte estimates the US AAM market will be worth $115 billion annually by 2035, with passenger and cargo operations each accounting for about half. More than 200 companies globally are developing eVTOL aircraft, and private eVTOL players had invested $2 billion in such projects as of September 2020, Deloitte says.
The consultancy and others stress that the sector needs government support with regard to certification, standards development and airspace integration.
Alex Krutz, managing director of aerospace and defence advisory firm Patriot Industrial Partners, cites numerous hurdles facing electric-aircraft developers.
They must meet stringent certification standards, develop sophisticated supply and production systems, deal with local noise regulations and address battery-density and infrastructure challenges. Commercial success requires their aircraft to be competitive with established transportation options, meaning developers must keep a lid on costs – a difficult task because initial designs are intended to be piloted, says Krutz. Eventually, developers hope to transition to full autonomy, which will reduce expenses and open an extra passenger seat.
Developers say eVTOL designs will be financially viable as air taxis partly because they will be less expensive to operate than conventional aircraft.
But Aboulafia says operating expenses are only part of the equation.
"AAM backers focus on operating costs because they look great," he says. "Capital costs are the real problem."
Certificating an eVTOL aircraft will probably cost at least several hundred million dollars, and manufacturing costs will be steep, Aboulafia says.
"The gap between manufacturing costs and sales prices obliterates manufacturers," he adds. "With AAM, everyone pretends that… capital costs aren't a problem at all. The result is a market valued in the trillions."
Business aviation consultant Brian Foley sees parallels between eVTOL products and the very-light jets developed in the early 2000s. Those aircraft – types like Cirrus Aircraft's SF50 Vision Jet, Cessna's Citation Mustang, Eclipse Aerospace's Eclipse 500 and Honda Aircraft's HondaJet – were also envisioned as air taxis. That dream never materialised.
"All that air taxi nonsense is flooding back, albeit with much shorter aircraft ranges," says Aboulafia.
Comparing eVTOL operations to Uber "neglects the fact" that Uber cars might cost only $10,000, while eVTOL aircraft are expected to cost several million dollars each, he adds. Securities documents show that Lilium has pegged the price of its Lilium Jet at $2.5 million, and Archer Aviation has suggested a $5 million price tag for its eVTOL offering.
Countless other electric-aircraft developers have made news this year.
US company Eviation tweaked the design of Alice, an in-development, clean-sheet, fixed-wing electric aircraft. Alice now has a T-tail, changed from a V-tail, two aft-fuselage-mounted propellers, instead of an earlier configuration with one on each wingtip and also on the aft fuselage, and will use two 850hp (634kW) Magnix Magni650 electric powerplants: it initially had three 375hp Magni250s.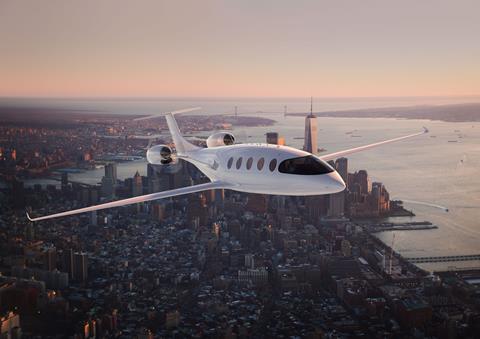 The nine-passenger Alice will have a 440nm range, 250kt maximum cruise speed and enter service in 2024, the company has said.
Embraer also has skin in the game, having in 2020 formed Eve Urban Air Mobility, a subsidiary aiming to have its eVTOL aircraft flying passengers by 2026. Eve has landed orders for hundreds of aircraft and signed operating partnerships with companies worldwide.
California electric aircraft developer Joby Aviation became a public company in August after merging with a SPAC called Reinvent Technology Partners. The deal left Joby with $1.6 billion in cash and proceeds.
Joby is developing a single-pilot, four-passenger eVTOL platform that will fly at up to 174kt and have more than 130nm range. It aims for 2023 certification and to begin commercial flights in 2024.
On 1 September, Joby kicked off a 10-day flight-test programme in partnership with NASA, which is working with several eVTOL developers as part of an effort to advance the technology.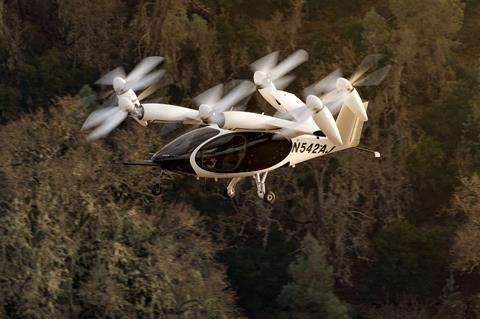 The Joby-NASA tests "will help identify gaps in current Federal Aviation Administration (FAA) regulations and policies to help incorporate AAM aircraft" into national airspace, NASA says.
The FAA has also been collaborating with NASA, and in 2020 released its urban air mobility "Concept of Operations", a document broadly describing the envisioned air taxi ecosystem and the FAA's role.
The administration says it can certificate electric aircraft through existing regulations, though "some certifications could require the FAA to issue special conditions or additional airworthiness criteria, depending on the type of project".
The FAA has also established a "Center for Emerging Concepts and Innovation", through which it helps certificate applicants meet requirements.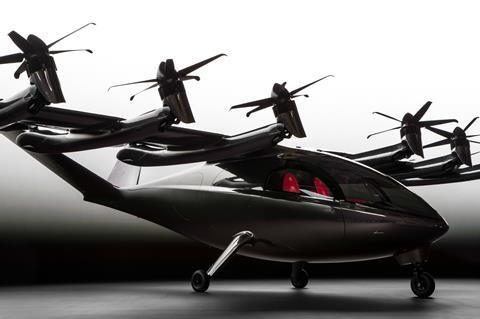 Several other eVTOL developers are pursuing SPAC-enabled go-public plans. Those include Archer, which in February agreed to complete the process by merging with SPAC Atlas Crest Investment. The companies previously pegged Archer's enterprise value at $2.7 billion, but in July slashed the figure by 38%, to $1.7 billion. Despite the change, Archer says its manufacturing, sales and pricing plans remain unchanged.
Also in February, Archer said United Airlines had committed to buy up to 200 of its in-development aircraft, a deal potentially worth $1 billion. Aboulafia notes though that commitments to purchase such in-development products often involve little or no money changing hands.
Archer aims to achieve certification of its four-passenger eVTOL platform in 2024. In June, the company unveiled a two-seat demonstrator called Maker, which has 12 wing-mounted rotors, a 52nm range and can cruise at up to 130kt.
Archer has partnered with auto giant Stellantis, which will assist with manufacturing and supply, and with Reef Technology, which operates parking facilities – possible eVTOL operating bases. On 2 September, Archer co-founder and co-chief executive Adam Goldstein said he expects passengers will pay $3-4 per mile to travel on Archer's air taxis. The company has also been embroiled in a lawsuit with Wisk, which sued Archer earlier this year, alleging patent infringement and trade secret theft.
Lilium's go-public plan, disclosed in March, involves merging with a SPAC called Qell Acquisition. The eVTOL developer has targeted a 2024 service entry for its Lilium Jet – a six-passenger aircraft that will have a 135nm range and 152kt cruise speed. In September, Lilium said David Neeleman, founder of Azul, Breeze Airways and JetBlue Airways, will join its board.
UK company Vertical Aerospace made big news in June, announcing that American Airlines, Virgin Atlantic Airways and lessor Avolon had agreed to purchase up to 1,000 of its in-development VA-X4 air taxis. American and Avolon also said they intend to become equity investors in Vertical.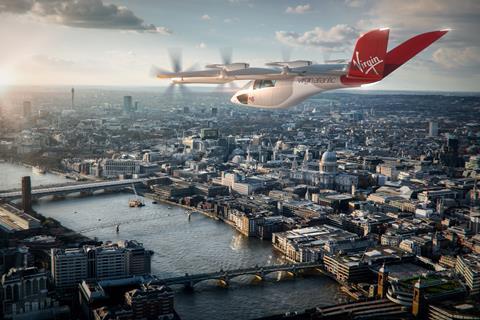 On the same day, Vertical became the latest eVTOL developer to reveal a go-public plan, saying it intends to merge with Broadstone Acquisition. The five-seat VA-X4 will have about 87nm of range and a top speed of 176kt. Vertical aims to achieve type certification in 2024.
Other US players include eVTOL developer Beta Technologies and two developers of electric short take-off and landing (eSTOL) aircraft: Airflow and Electra Aero.
UK-based Faradair Aerospace, Sweden's Heart Aerospace and France's Aura Aero are working to bring electric or hybrid-electric commuter aircraft to market.
If the developers are right, electric aircraft might actually be shuttling passengers within a few years.
But Aboulafia notes that start-ups can become more financially precarious as they near "the finish line" – that is, when they start shelling out big money to fund development, certification and production. Indeed, supersonic aircraft developer Aerion shuttered in 2021.
"Carnage is guaranteed," Aboulafia says.