Collins Aerospace is showcasing Izon, a cloud-based business-aviation platform that integrates various operational services and will be compatible with some third-party-developed applications, after a launch just ahead of coming to Las Vegas.
The product, revealed by the aerospace giant on 7 October, will be accessible on mobile devices and available to users involved in a broad range of flight operations services.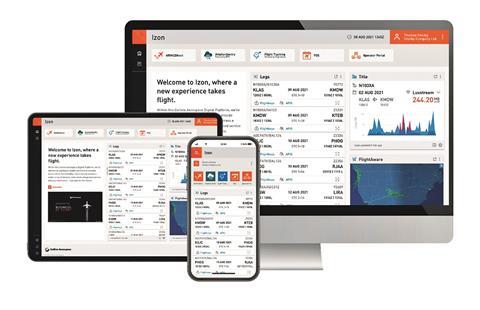 The company created Izon in response to an opportunity: today's business jet operators regularly use a host of differing software platforms, some of which are offered by Collins. The platforms often require separate accounts and log-ins, and some are not readily accessible on smartphones.
"They have to do 12 clicks to [get] the information they need," says Collins vice-president and general manager for information management services LeAnn Ridgeway. "We are modernising this, bringing solutions that are best in class, and making them accessible in a more user-friendly software solution."
Izon will simplify how operators manage their aircraft by combining various services into a single platform with a "modern interface and customisable dashboard," Collins says.
"Think of it as a hub for all things aviation," adds Ridgeway. She calls Izon a "business aviation digital experience" and a "connected platform… that is designed to streamline productivity."
With Izon, Collins intends to "merge" various "information streams that come into and out of business aviation operators," according to Ridgeway. "A lot of these today are needlessly complex."
The company is rolling Izon out in stages due to the complexity of merging the various technologies currently in use. Izon users will initially have to access Collins' suite of ARINCDirect products, which include weather, flight planning, flight operations management, safety and aircraft connectivity services. Collins will also make third-party applications accessible via Izon.
Collins intends to roll out more Izon features in 2022. Those include the ability for users to access navigation databases and to connect to two inflight entertainment services produced by Collins: its on-demand video product Stage and its live-TV offering Tailwind.
"As the platform grows and evolves, the portal will allow for Collins and third parties to also share and conduct data transactions," Collins says. "We created this integrated platform that puts everything you need at your fingertips." Customers do not need hardware to use Izon, nor do they need to download software. The system will be cloud-based and internet-accessible.
"Whether you are sitting in the maintenance part of business aviation, or a pilot… you are going to be able to tailor [Izon to] your role," Ridgeway says.