Honda Aircraft has unveiled a new business jet concept intended to sit at the upper end of the light-jet segment but have sufficient range and size to enable it to compete in the mid-size market.
The airframer revealed a mock-up of its HondaJet 2600 concept at NBAA's annual trade show in Las Vegas on 12 October.
"This aircraft is the first transcontinental light jet. It is capable of flying from New York to Los Angeles," says Honda Aircraft chief executive Michimasa Fujino.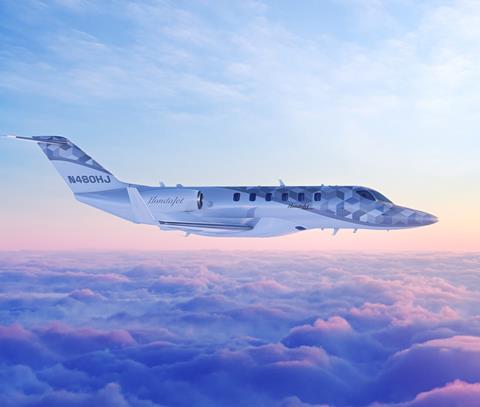 The clean-sheet concept's range, efficiency, comfort and lower cabin-pressure altitude will "redefine" the light jet segment, he says.
The aircraft will carry up to 11 people and be capable of being flown by a single pilot. It will have 2,625nm (4,862km) of range with five people, maximum cruise speed of 450kt (834km/h) and a maximum cruise altitude of 47,000ft.
Those capabilities will let the 2600 compete it the "mid-size market as well", Fujino says.
Honda Aircraft has not officially launched the 2600 development programme nor specified a development timeline. Rather, it has revealed a concept it hopes will generate sufficient customer interest to move forward with development and certification.
"We are still looking for customer feedback and market feedback before we commit to dates," says Honda Aircraft director of sales Peter Kriegler.
The jet will have upper-wing mounted engines like Honda Aircraft's existing HA-420 HondaJet Elite S. That jet, conceived in the early 2000s, can carry up to eight people (including a pilot) and has 1,437nm of range.
Honda Aircraft would manufacturer the 2600 at its site in Greensboro, North Carolina.
The 2600 will have a composite fuselage, and a new wing with a 17.3m (56.7ft) span. The cabin will be several inches wider at shoulder and foot level than the HA-420, and the centre of its cabin will be slightly higher, Kriegler says. The 2600's cockpit will also be larger than the HA-420.
Kriegler says the 2600 will be 20% more fuel efficient than other light jets on the market thanks to its upper-wing-mounted engine configuration and clean-sheet design that maximises "laminar flow" – a state at which air flows around an aircraft without disturbance.
Those qualities will make the aircraft 40% more efficient than mid-size business jets, Honda Aircraft says.
The company intends to outfit the jet with leading technologies, including auto-throttle and auto-braking systems. At 47,000ft altitude, the 2600's cabin can be pressurised to the equivalent of 6,300ft.