After steering its way through the crisis, NBAA chief executive Ed Bolen says the business aviation community cannot wait to reconnect in person for the first time in two years
For National Business Aviation Association president and chief executive Ed Bolen 12 October will be a day of celebration for the sector. For the first time in two years, thousands of members of the business aviation community will meet face to face in the new west wing of the Las Vegas Convention Center.
"The excitement, both within NBAA itself and the industry is palpable," Bolen told FlightGlobal in an interview from his Washington DC office a week before the event.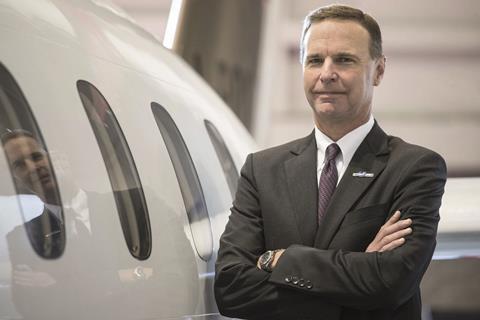 Bolen and his team have been spending months preparing for the biggest gathering in business aviation, as they do every year. Until 2020, the NBAA convention had been held in some form annually since the 1950s. However, this time had the added complexity of introducing Covid-security protocols, and the uncertainty around whether the event could still take place as the Delta variant raged throughout the USA this summer.
Bolen has no doubt that, with cases in the country stabilising in recent weeks, and with strict Covid prevention measures in place, the business aviation community will turn up in force in Las Vegas. After two years without the opportunity to meet, the industry is desperate to reconnect and exchange ideas, he says. As well as the cancellation of the convention in Orlando last year, the last two EBACEs – the equivalent convention for Europe, held every May in Geneva – were also canned.
NBAA has spent considerable time persuading potential exhibitors and visitors that the convention will be safe. Unlike many countries, the USA has remained relatively open throughout the pandemic when it comes to social contact. However, the prevalence of Delta has made many nervous about travel. "NBAA has been guided in everything we do by outside experts, who we are in constant contact with," says Bolen. "We are following what other conventions have done."
However, this year's show will be different. For a start, most Europeans and residents of several other countries still cannot legally enter the USA. A hoped-for relaxation in the transatlantic travel ban by the Biden administration will not take effect until next month. This means many who would have been in Las Vegas – including a UK-based contingent from FlightGlobal, there to produce Flight Evening News – are not attending.
Bolen admits that, while NBAA is a US-focused association, business aviation is "inherently international", as is the world's largest business aviation event. "We will miss having a lot of individuals and companies who would normally be there," he says. "But we will focus on what we do have, not on what we don't have." Likening the success of the event to operating a business aircraft, he notes: "There are always redundancies that ensure a successful mission when things go wrong."
Despite the border restrictions, many European-based manufacturers have a presence, relying largely on US-based staff. They include Airbus, Daher, Dassault, Jet Aviation, and Pilatus. However, there is one notable absentee from this year's event, and not for reasons of travel complications. Gulfstream, one of the biggest brands in the industry, will not be exhibiting, either in the convention hall or the static display. This is despite having a new jet – the G700 – approaching its service entry.
The no-shows aside, Bolen says this year's event promises to be one of the "most exciting" in years when it comes to new technology. "There will be a tremendous focus on product announcements, and this always generates excitement," he says. Themes will include advanced air mobility – several start-ups are present – and sustainability: the event will host the first Business Aviation Sustainability Summit. The show, says Bolen, will be "a celebration of everything business aviation is and can be".
Bolen believes the sector's much-documented rebound in the USA since Covid-19 caused flying to come to a virtual halt in the second quarter of 2020 is down to "business aviation being able to attract a significant number of new entrants". He adds: "The inherent benefits of business aviation – flexibility, security, time saved – have been around for ages, but in a Covid environment many of these benefits have taken on a new importance."
However, strict rules on movement aimed at countering the virus continue in many parts of the world, including Asia, and mean any global recovery has been stuttering. This is a concern, admits Bolen, who has led NBAA since joining in 2004 from an equivalent role at the General Aviation Manufacturers Association. "Business aviation is by its nature international," he says. "This means we won't see its full potential until we are back to a completely open global marketplace."
Bolen is confident, as the convention opens its doors tomorrow morning, that Las Vegas 2020 – despite the mask-wearing and social distancing advice – will be a vital step in that return to normality for the industry. And that by October 2021 in Orlando, Covid-19 will be in full retreat and the Business Aviation Convention and Exhibition will be back to welcoming delegates and exhibitors from around the world.