Almost all Rolls-Royce-powered business aircraft are back operating to pre-pandemic levels after what the engine manufacturer describes as a faster than expected recovery in the sector.
Speaking to FlightGlobal ahead of the NBAA show in Las Vegas, Rolls-Royce senior vice-president services, business aviation, Andy Robinson said the past 18 months have been challenging for Rolls-Royce's service operation, but not necessarily in the way its managers thought would happen.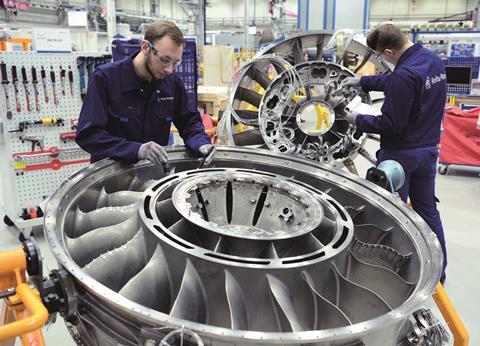 "When we saw the drop-off in flying in April 2020, a trend we were not expecting was that customers became very proactive about maintenance, and there was a surge in demand. That was as we were preparing as a larger organisation for short working weeks and furloughs," he says.
Supporting all that hangar activity when much of aviation was grounded and technicians could not travel was not easy, but Robinson says his department achieved it by "being extremely creative". Teams travelled by road rather than air. "One time, for an AOG [aircraft on ground], we drove from Berlin to Vienna to change a fan belt," he says.
Quarantine was another obstacle. Engineers who did travel abroad often had to isolate at home on return. And lack of airline freight capacity was another when it came to transporting parts. "There were times when we had to charter aircraft, to get a team to the Maldives, for instance," says Robinson.
However, he says the rebound in business aviation this year has been "much quicker than we predicted".
Robinson says that the roughly 3,650-strong Rolls-Royce-powered fleet is now back to more than 100% of its pre-pandemic flying hours. That is all the more remarkable, he says, because Rolls-Royce engines power larger jets that tend to fly internationally, and many travel restrictions still apply.
Rolls-Royce is during NBAA giving visitors a chance to get under the skin of its BR725 – the engine that powers the Gulfstream G650 – using virtual reality goggles. The technology from the UK-based propulsion specialist allows technicians and others to study the inner workings of the powerplant remotely, avoiding the need to attend in-person training sessions.
The manufacture launched the feature – which it plans to extend to other engines including the Pearl family and the BR710 – in July last year. "We didn't develop this because of Covid; we were launching it anyway. But the particular circumstances of the past 18 months have helped to make it a success," says Robinson
Rolls-Royce is also exhibiting Pearl 700 components on its stand as it highlights the "continuing success" of the Gulfstream G700 flight-test programme. The campaign has suffered some bumps, however. In July Phebe Novakovic, chief executive of the airframer's parent General Dynamics described the Pearl 700-powered G700's certification effort as "difficult", but insisted the large-cabin, ultra-long-range jet remained on track for service entry in late 2022. And that has also not stopped Gulfstream selecting the Pearl 700 to power the new G800 as well.
It has been a very good year for Rolls-Royce's flagship business aviation engine family. In May, Dassault became the latest airframer to commit to the powerplant when it chose the Pearl 10X variant to power its Falcon 10X, its largest business aircraft yet, due to reach the market in 2025. It means that all three ultra-long-range jet families will feature Rolls-Royce propulsion, with the exception of Bombardier's GE Aviation Passport-powered Global 7500.
In August, Rolls-Royce delivered its 100th Pearl 15 to Bombardier. The engine powers the Global 6500 and Global 5500, unveiled in May 2018 as successors to the BR710-powered Global 5000 and Global 6000.