Propulsion specialist VerdeGo has validated its VH-3 hybrid powerplant with a series of tests, bringing the industry one step closer to electrification of aviation and sustainable flight.
The Daytona Beach-headquartered company says that it has performed more than 500 full‑scale tests of its prototype since mid-2020. These included endurance tests of up to 6 hours, and at temperatures between 29°C (85°F) and 31°C.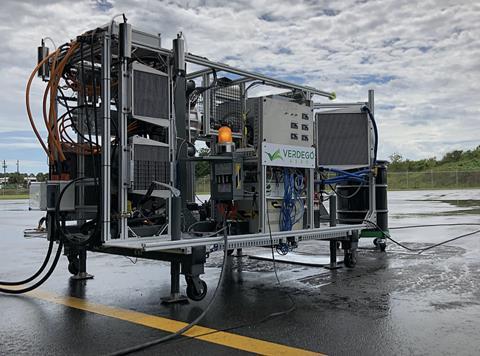 The low-fuel-consumption powerplant, it says, performed to all expectations during the campaign.
Testing was done simulating hover conditions – zero airspeed, with all cooling systems operational – "which is the most challenging case for powertrain cooling and efficiency," VerdeGo says.
"The resulting specific fuel consumption (SFC) was 227g/kWh at 150kW of output, with a very flat efficiency curve that demonstrates high efficiency during all phases of a typical flight," VerdeGo says.
That translates to about 0.37lb/hp hour. The SFC of competing turbine hybrid powerplants is 49% to 76% higher than that, VerdeGo says.
The company is working with electric vertical take-off and landing (eVTOL) developer Jaunt Air Mobility on its hybrid air taxi, which Jaunt hopes to certify by 2026. That aircraft will have twin VH-3 powerplants.
While the VH-3 runs on conventional fossil fuels, VerdeGo is also preparing it for the future.
"Our latest experimental data for efficiency, combined with models of operating cost for next-generation aircraft, shows that the VerdeGo VH-3… can be paired with Sustainable Aviation Fuels to offer the highest performance, lowest technology risk, lowest-cost method of achieving low or zero net carbon emissions," says VerdeGo chief executive Eric Bartsch.
The company is working on validating the engine's compatibility with various blends of SAF and fossil fuel, as well as a 100% SAF option. The hybrid VH-3 can be used for passenger, cargo, autonomous, civilian, and military next-generation aircraft and will be available for non-certified applications in late 2023, with certified powerplants available two years later.