Think back to the last NBAA-BACE – October 2019, also in Las Vegas. Before the world changed so dramatically.
That was a time of optimism for the companies that produce the largest business jets – the ultra-long-range types that can fly nearly anywhere on a single tank of fuel.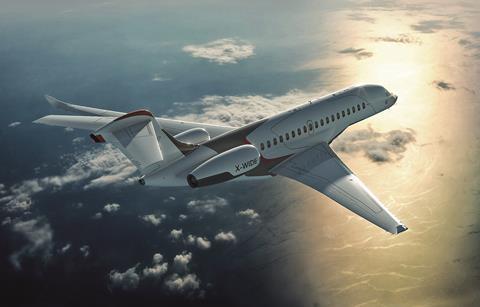 Those companies were riding a wave of demand, with business jet deliveries in 2019 jumping 15% year-on-year, according to the General Aviation Manufacturers Association (GAMA).
At 2019's BACE, Gulfstream launched its G700, a competitor to Bombardier's standard-setting large-cabin Global 7500.
Then came Covid-19, which changed everything. The industry sank into a dark place from which escape seemed uncertain. Manufacturers cut staff, wound down production, and restructured operations.
But a curious thing happened in 2021: the large-cabin business jet market snapped back. For various reasons – many pandemic-related – buyers are again eagerly placing deposits on the world's fastest, largest, priciest and most-capable business jets.
Much has changed with the pandemic. But to a large degree, trends that defined the upper echelon of the business jet market prior to Covid-19 also define its 2021 recovery. Some of those trends have actually accelerated – competition, for instance. In May, Dassault Aviation unveiled development of its Falcon 10X, a jet aimed squarely at countering the Global 7500 and in-development G700.
INELASTIC DEMAND
"It just goes to show that the top market is, as economists say, completely inelastic," says Richard Aboulafia, vice-president of analysis at Teal Group, meaning manufacturers seem able to charge "whatever price [they] like" – and buyers will still line up.
Commercial aircraft producers also compete in the large-cabin business jet segment, though they tend to deliver far fewer executive jets than do the business aircraft-dedicated airframers.
Airbus has been vocal in promoting its ACJ TwoTwenty, a 5,650nm (10,500km)-range variant of its A220-100 jetliner. Earlier this year, Airbus said it had started assembling the first TwoTwenty at its Montreal site. It aims to fly the aircraft for the first time before year-end and to deliver the lead example to launch customer Comlux early next year.
Other competitors include Embraer, with its E190-based, 4,600nm-range Lineage 1000E, and Boeing Business Jets, which sells executive variants of its 737 Max, including the 7,000nm-range BBJ 737 Max 7.
The business jet market has not fully recovered. With Covid-19 continuing its global sweep, the sector is far from its usual self. Layoffs and production cuts will have lingering effects.
But things are looking up.
"The second quarter was exceptional on all fronts. Better revenue, better profitability, better cash generation, better service revenue and perhaps most importantly, better aircraft sales," Bombardier chief executive Eric Martel said on 5 August.
Who would have thought?
The market for business jets never suffered as mightily from the pandemic as its commercial aviation sibling. Indeed, in early 2020, as Covid-19 arrived and airline operations fell into disarray, business jets were suddenly in high demand.
Plenty of people wanted to travel – either domestically, or to escape whatever country in which they found themselves marooned. If you wanted or needed to travel, and if you had the money, you might have chartered a jet.
"They [business jet operators] were flying the pants off them up to the March [2020] timeframe," says Brian Foley, founder of aerospace consultancy Brian Foley Associates.
The boom was short lived, ending as the world hunkered down to wait out the pandemic. Airframers cut staff and production. Deliveries slowed to 130 business jets in the second quarter of 2020, fewer than half as many as were delivered in the same period of 2019, according to GAMA.
But all was not lost. Amid the pandemic, demand "percolated" for small and mid-size jets, say Foley – aircraft perfect for the only travel that was still permitted: domestic. But still, at the end of last year, large-cabin jets "weren't moving at all – the big-cabin stuff practically ground to a halt".
The large-cabin market was not sour for long, however. Recovery took hold in early 2021 and demand returned. Airframers delivered more jets and new orders filled their backlogs. By mid-year 2021, some companies were delivering jets at a faster pace than in pre-Covid 2019, and upping revenue expectations.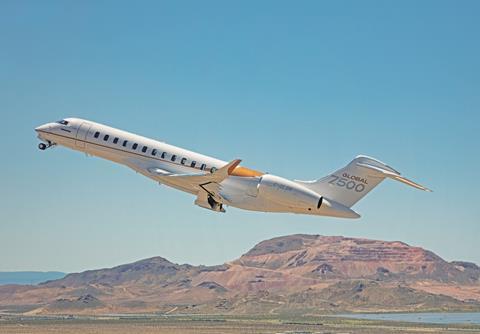 "At first, it looked like the small- and medium-cabin segments were doing best, but now a rising tide [is] lifting all boats," says Aboulafia. "No-one thought everything would come back on a dime, but it did. Now they have to bring production up again."
He estimates Bombardier, Dassault and Gulfstream will, in 2021, deliver a combined 196 large-cabin jets (defined as those costing at least $35 million) for a total delivery value of $11.7 billion. He expects deliveries will increase steadily – hitting 250 jets, worth $14.7 billion, in 2025.
Bombardier delivered 17 large-cabin business jets (including 11 of its flagship Global 7500) in the second quarter – one more even than the 16 large-cabin jets it delivered in the second quarter of 2019.
The company, fresh from a restructuring that involved divesting non-aviation businesses, recently upped its 2021 revenue expectation by $200 million to more than $5.8 billion. It also tweaked its 2021 delivery expectation to 120 aircraft, revised from a previous estimate of 110-120 deliveries.
Bombardier has a bit of a head start over competing ultra-long-range products, having beat competitors to market with the late 2018 service entry of its Global 7500. Powered by twin 18,900lb (84.2kN)-thrust GE Aviation Passport turbofans, that $75 million jet can carry 19 passengers and has 7,700nm range.
The next move for the Montreal airframer is somewhat unclear, although executives say their focus lies on maturing the Global 7500 programme. They also continue to evaluate the feasibility of launching the long-stalled Global 8000, which Bombardier launched in 2010 alongside the Global 7000, which became the 7500.
Competitors Gulfstream and Dassault – which have each countered the Global 7500 with clean-sheet behemoths – have likewise reported encouraging market conditions.
"Sales activity truly accelerated in the middle of February" – a trend that continued in the second quarter, Phebe Novakovic, chief executive of Gulfstream parent General Dynamics, said in July.
Savannah-based Gulfstream delivered only 21 aircraft in the second quarter, 11 fewer than the same period last year. But it aims to hike deliveries to 32 aircraft in the third quarter and 37 in the fourth.
"If all goes well, we may be able to bring a few more forward from the first quarter [of] 2022 to meet current demand," adds Novakovic. "You will see more deliveries, revenue and operating earnings in the second half as a result."
Gulfstream's hands are full with the work of certificating the jet it has staked much of its future on: the 19-passenger, 7,500nm-range G700. The airframer revealed the Rolls-Royce Pearl 700-powered G700 at 2019's NBAA. It targets a late 2022 service entry.
WITHIN RANGE
Priced at $78 million, the G700's range is the same as Gulfstream's previous standard bearing G650ER – and 200nm less than the Global 7500. But customers are not clamouring for more range – 7,500nm will get you nearly anywhere you want to go in the world, Gulfstream has said.
But buyers really want more space, which is where the G700 delivers, according to Gulfstream, which calls the G700's cabin the industry's "most spacious" – Dassault makes a similar claim for its in-development Falcon 10X, which has a slightly higher and wider cabin.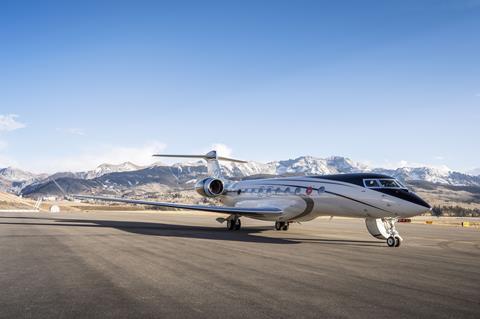 Excluding baggage areas, the G700's cabin stretches 17.3m (56ft 11in). That is a smidgen more than competing jets' cabins and sufficient for five "living areas" – one more than in the G650ER.
Gulfstream also highlights the G700's technology. Fly-by-wire controls. Active-control side sticks. A Honeywell Primus Epic-based Symmetry flightdeck with touch-screen avionics, moving maps, head-up displays, synthetic and enhanced vision systems and a predictive landing system.
The G700's 18,250lb-thrust Pearl 700s will also burn 2-3% less fuel than the G650ER's R-R BR725s, the airframer claims.
As of late July, Gulfstream had completed some 1,600h of testing across five G700 test jets. However, "there is much that remains to be accomplished" with the certification effort, Novakovic said at the time, observing that "new engine development programmes… are always difficult to get through certification."
For a while, it seemed Bombardier would only have to contend with Gulfstream in the ultra-long-range space. But with large-cabin business jets being as profitable as they are, Dassault could not have been expected to sit on the sidelines forever.
In May, the French company jumped into the ring, revealing it is developing its largest-ever business jet, the $75 million Falcon 10X. Powered by 18,000lb-thrust R-R Pearl 10X turbofans, the 10X will have 7,500nm range with eight passengers and four crew.
Dassault is working to bring the aircraft through certification in time for service entry at the end of 2025, three years behind Gulfstream's G700 timeline.
In July, the company revealed it had landed its first 10X orders, although it did not disclose how many. In the first half of 2021, it took orders for 25 Falcon jets of all models – up from five for the same period of 2020.
"For the past 25 years, they have been absent from the very top," Aboulafia says of Dassault. "Will they be able to gouge out a presence? That is the single biggest question."
"Its getting a little crowded in the market, with the three contenders," adds Foley. "That's a lot of airplanes in a pretty niche market, but it's also one of the more-profitable segments."
With the Lineage 1000E and executive variants of the 737 Max also battling for large-cabin business jet buyers, it is worth asking if demand can support all that production.
In the long term, analysts are unsure – but at the moment the answer is yes. Underlying economic conditions indicate no shortage of willing buyers, they say.
Strong corporate profits and roaring equities markets have left buyers flush with cash, says Aboulafia. And oil prices are up – good for business jet makers because a large number of buyers are either oil companies or from oil-rich countries, he adds.
Another encouraging factor is that the used aircraft market is booming, with very few aircraft for sale. "When there is nothing left in the pre-owned market and people are itching to buy… there is only one other place to look, and that's new aircraft sales," Foley says.
In July, Bombardier's Martel cited the health of the used-aircraft market, noting only 4-5% of the global used aircraft fleet is up for sale – a two-decade low.
"Typically, the percent of the fleet for sale, in a normal time, is 10-12%," says Foley, noting that about 18% of the used fleet was available following the 2007-2009 recession.
As a result, orders are coming in and airframers are reporting higher book-to-bill ratios – the balance of a company's orders to deliveries – a higher number is better, meaning a company is landing orders faster than it is delivering jets, thereby building its backlog.
Bombardier reported a second-quarter book-to-bill ratio of 1.8:1 (in aircraft units), adding $300 million worth of orders to its backlog in the period. Gulfstream's second-quarter ratio meanwhile was 2.1:1 (in dollar value).
"From an order perspective, the quarter bordered on spectacular," Novakovic said of Gulfstream in July. "This is the strongest-order quarter in number of units in quite some time."
The way things look, Foley wonders if demand for large-cabin jets might actually outstrip supply for several years. He notes that manufacturing and supply-chain limitations will probably preclude significant production rate hikes. That is likely to be fine for manufacturers; they will not soon forget being stuck with unsold inventory following the last recession, he says.
"I could make the argument that there could be a scarcity coming up, at least initially," Foley says of new jet availability. "If I have to make a prediction – all three of those manufacturers will be facing a nice problem to have."