Operations are set to begin at Abu Dhabi International airport's new Terminal A in "early November", several years after the facility was first slated to open.
Building of the facility, known during its construction as the Midfield Terminal and which will enlarge capacity at the Abu Dhabi airport to 45 million passengers, was initially approved in 2012 with an opening envisaged in 2017.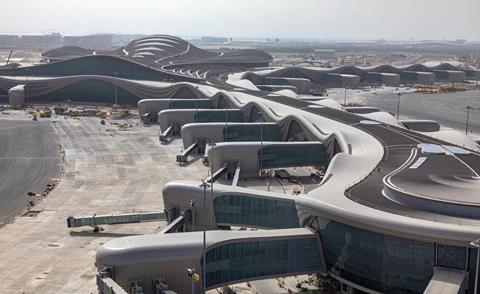 That expansion was in line with the development of Abu Dhabi as a travel hub, under which Etihad Airways had embarked on an ambitious equity-alliance growth strategy. However, the unwinding of that model and the subsequent consolidation period at Etihad, followed by the impact of the pandemic, saw passenger levels through Abu Dhabi fall sharply.
But passenger activity has been back on the rise. Passenger levels trebled at Abu Dhabi airport last year to 15.9 million and numbers are up two-thirds at the halfway point of this year at 10.2 million. Home carrier Etihad Airways, meanwhile, has outlined a plan to return to growth.
Abu Dhabi Airports chairman Sheikh Mohammed bin Hamad bin Tahnoon Al Nahyan says: "As Abu Dhabi's new gateway to the world, Terminal A is an embodiment of Abu Dhabi Airports' commitment to support the emirate's sustainable economic development. The opening of the facility, which is on par with the largest and grandest on our planet, turns over a new page in Abu Dhabi's 55-year aviation history."
While no specific date for the launch has yet been disclosed, the early November opening will come in time for significant events in the UAE: it hosts the 28th UN climate change conference, as well as the Dubai air show, in November.