Argentine flag carrier Aerolineas Argentinas will begin operating flights to the USA from Aeroparque Jorge Newbery – the first intercontinental connections to depart from Buenos Aires' downtown airport, rather than the much larger Ezeiza Ministro Pistorini International airport on the outskirts of the city.
The airline said on 1 June that the flights to North America will launch on 7 August. It is planning a thrice-weekly connection to New York's John F Kennedy International airport, as well as a four-times-weekly flight to Miami using its Airbus A330-200E aircraft.
"This flight will allow tourists to connect to the main tourist destinations within Argentina during the peak hours of daily departures and with minimum connection times," the airline says.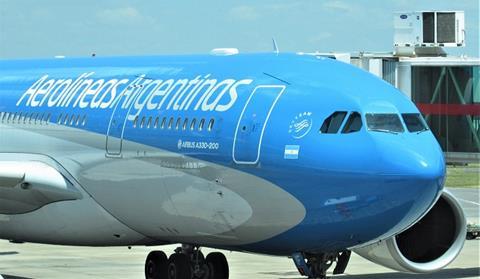 Aeroparque is located near the centre of Buenos Aires, while Ezeiza, the primary airport which caters to international tourists entering or leaving the country, is about 25mi (40km) southeast of the Argentine capital.
Travellers arriving at Ezeiza with connections to other destinations in Argentina and Uruguay, as well as some flights to Colombia, Paraguay, Chile or Brazil, often have to take ground transportation to the other airport – a trip that can take up to three hours depending on traffic.
"In this way we improve our products, [and] we strengthen our role by bringing more tourists from the United States who can connect with all the domestic flights in our network and with minimum connection times," Aerolineas chief executive Pablo Ceriani says.
The company recently took delivery of a new A330-200E, the largest type in its fleet, and is expecting one more to join this year. All told, the carrier's A330 fleet will be 10-strong. The aircraft are configured with 24 business class seats and 248 seats in economy class.
Thanks to construction improvements at Aeroparque during the Covid-19 pandemic – the airfield's runway was lengthened and widened, a new beacon system installed and the passenger terminal was expanded – the airport is now able to handle large widebody aircraft like the A330, Aerolineas says.
Aerolineas also says that it is launching its first domestic flights from Aeroparque with the aircraft type: a twice-weekly connection to Ushuaia, and a once-weekly flight each to Iguazu and El Calafate. The airline did not say when those flights would begin operating.