Northern Pacific Airways (NPA), which operated its first commercial flight from the Los Angeles metropolitan area to Las Vegas on 14 July, is seemingly having trouble continuing service.
Its second scheduled passenger flight, which was due to take off from Las Vegas back to Ontario near Los Angeles on 16 July, never left the ground.
"The outbound NPA flight yesterday from [Las Vegas] to [Ontario] was cancelled due to a minor mechanical issue with the aircraft," Northern Pacific said on 17 July. "All passengers have either been refunded or accommodated on other flights or alternate transportation. These are the unfortunate issues that come with starting a new airline."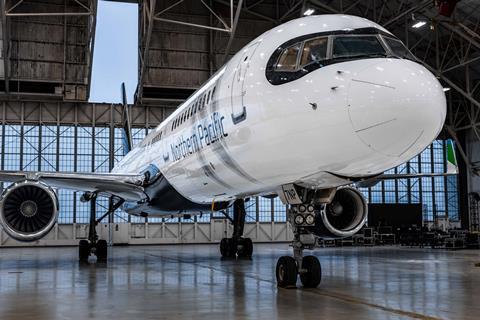 According to Cirium fleets data, the aircraft, with registration N628NP, is a 28-year-old Boeing 757-200. Northern Pacific has four Boeing 757-200s in its fleet, just one of which is noted as in-service. The other three are in storage, Cirium data shows. Northern Pacific took delivery of the first aircraft 17 months ago.
The start-up airline aimed to begin commercial service earlier this year, and has suffered delays due to incomplete regulatory approvals. But last week, the Federal Aviation Administration issued Northern Pacific an air carrier certificate, clearing the way for it to begin passenger flights.
Its initial scheduled flights are between Ontario International airport, about 58 miles (93km) northeast of the region's primary airport, Los Angeles International, and Las Vegas. The schedule appears to cater to customers from the Los Angeles metropolitan area looking to spend a weekend in Las Vegas. The distance between the two airports is listed as 197nm. By car, with traffic, that one-way journey can take 4-5h.
But despite the technical issues which forced the airline's only aircraft to remain on the ground in Las Vegas, the carrier says it will operate the Ontario-to-Las Vegas leg later this week "as the airline resumes normal operations".
Last week chief executive Rob McKinney said that Northern Pacific will also launch charter and ACMI (aircraft, crew, maintenance and insurance) operations "as early as August".
McKinney's plans for the fledgling airline include replicating across the Pacific Ocean what Reykjavik-headquartered Icelandair does across the Atlantic. For years, the Icelandic carrier used its island base about midway between North America and Europe to offer low-fare flights between the continents, with the option for stopovers. Northern Pacific has said it intends to fly from Anchorage to South Korea and Japan in a similar fashion.
McKinney still hopes to begin flying those routes next year, and the company has applied for permission to operate routes through Anchorage in "several countries". In addition to South Korea and Japan, he also mentioned Canada and Mexico.
"We were kind of overwhelmed by how much response we've gotten from the charter and ACMI [business], so that probably will keep us busy up until we can get the transpacific route started," McKinney added. He's targeting the second quarter of 2024 for those flights.