Air Canada plans to boost capacity in the Asia-Pacific region through the next Northern Hemisphere summer as it seeks to capitalise on stronger-than-expected demand for trans-Pacific air travel.
The carrier said on 14 November that it will operate 57 weekly flights between Canada and Asia starting in mid-December, and ramp up to a peak of 64 weekly flights in summer 2024.
It is also planning to deploy Boeing 777-300ERs on several routes to China, Japan and South Korea.
"Air Canada will have up to double daily flights to Hong Kong and larger aircraft operating to Shanghai during the December holiday and Lunar New Year travel periods," says Mark Galardo, executive vice-president, revenue and network planning.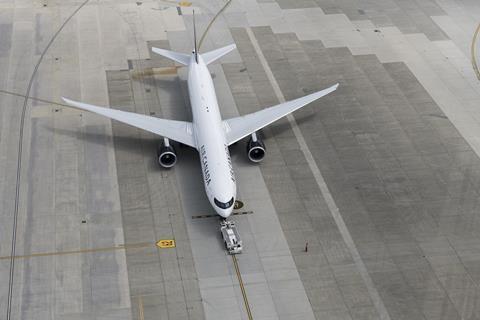 Much of the carrier's focus is on growing its Vancouver hub on Canada's Pacific Coast. Air Canada will operate its Vancouver-Hong Kong route 11 times weekly beginning in December. It will also step up flights between Vancouver and Bangkok to once-daily from 8 January to 28 February.
Additionally, Air Canada will increase capacity to Japan by 96% this winter compared to the same period last year.
Air Canada will operate 400-seat 777-300ERs – rather than 298-seat 787-9s – from Vancouver to Narita until 30 April. It will also fly the larger widebody aircraft from Vancouver to Seoul, and Montreal and Toronto to Narita, "for the full summer season".
The carrier recently launched nonstop flights from Vancouver to Dubai and is planning four weekly flights from Vancouver to Singapore starting in April.
Most of the airline's recently added international routes have performed better than expected, Air Canada said during its 30 October earnings call.
"We see a strong opportunity to redeploy capacity into the Asia-Pacific sector over the coming months," Galardo said during the call. "We are increasing our capacity to Japan and Korea, adding frequency to our successful new route to Bangkok and adding an additional red-eye flight from Vancouver to Hong Kong."
The company reported a third-quarter profit of C$1.25 billion ($900 million), compared with a C$508 million loss last year, as passenger revenue increased nearly 22%.
It also recently ordered another 18 Boeing 787-10s, the largest variant of Boeing's flagship widebody jet, with deliveries expected to begin in 2025.