Air Canada is temporarily cutting 17 more routes as it struggles to operate amid government travel restrictions designed to mitigate the spread of the coronavirus.
The Montreal-based carrier says on 9 February that beginning on 12 February it will suspend numerous flights to the USA, as well as to Colombia and some European and Asian destinations. The suspensions, which will last through 30 April, will also lead to further job losses.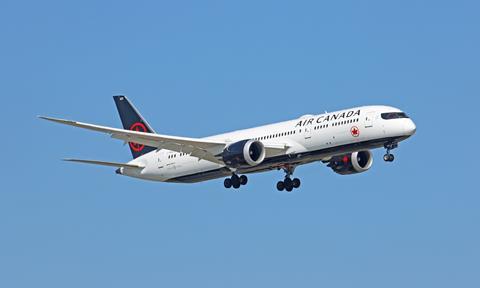 "We are further reducing our trans-border and international commercial schedule as a result of Covid-19," the airline tells FlightGlobal. "Regrettably, due to the schedule changes, the airline will also temporarily reduce its unionised workforce by 1,500 people and by an as-yet-undetermined number of management positions."
Impacted routes include connections from Toronto to Boston, Washington, DC, Denver, New York's LaGuardia airport and Fort Myers, Florida. Flights from Montreal to Boston and LaGuardia as well as the connection from Vancouver to Seattle will also be suspended.
The land border between Canada and the USA has been sealed from non-essential travel since March, with the closure being repeatedly extended month-by-month. Customers intent on travelling have been evading this measure by flying between the two countries.
In addition to the trans-border fights, Air Canada will stop flying to Bogota, Dublin, Sao Paolo, London and Tokyo, it says.
The launch of flights between Toronto and both Dubai and Hong Kong have also been postponed, and the connection between Toronto and Tel Aviv continues to be suspended.
The Canadian legacy carrier, along with its peers WestJet, Sunwing Airlines and Air Transat, on 29 January agreed to suspend flights to Mexico and the Caribbean until 30 April at the government's request.
The cancellations come at an inconvenient time for winter-weary Canadians, many of whom usually spend at least a part of the cold weather months in warmer climates. So-called "snowbirds" flock to beaches and resorts in Florida, Mexico and the Caribbean between February and April to escape Canada's frigid temperatures and short days. This year, that steady wave of dependable business for Canadian carriers has been severely curtailed.
In addition to the flight suspensions, all arriving passengers from overseas are subject to coronavirus tests upon arriving in Canada, and must quarantine at approved hotels for three days pending test results, at their own cost. This can run to about C$2,000 ($1,565).
If the test is negative, the traveller is released to spend the rest of the country's mandated 14-day quarantine at home under what the government last week called "increased surveillance measures". Travellers who test positive are transferred to government quarantine centres, to be closely monitored for the rest of the isolation period.
The air transport industry in Canada has been dealt numerous blows by the global health crisis, now in its 12th month. The government's strict restrictions, imposed last March, have made both domestic and international travel difficult and complicated.
In addition, the government of Justin Trudeau has declined to offer sector-specific financial aid to support the airline industry through the pandemic. As a result, thousands of jobs have been lost and carriers have had to repeatedly adjust their networks and capacity.
The airline reports fourth quarter 2020 earnings results on 12 February.