Demand for long-haul travel continued to improve through to the end of 2021, according to Air France-KLM, even as the Omicron variant of Covid-19 prompted the introduction of further travel restrictions in some markets.
"Despite the fact that there were a lot of restrictions in place related to Omicron, on the long-haul we saw big demand," said the group's chief financial officer Steven Zaat during a fourth-quarter 2021 results briefing today.
Air France-KLM's long-haul indicators rose steadily during the period. Capacity reached 75% of pre-crisis levels in December, on a load factor of 75%. Both measures were at around 60% as the third quarter came to an end.
Citing "very strong results, especially when the US was opening up [in November]", Zaat says: "If people can fly, they will fly."
He adds that load factors on long-haul services were the same in economy and business classes.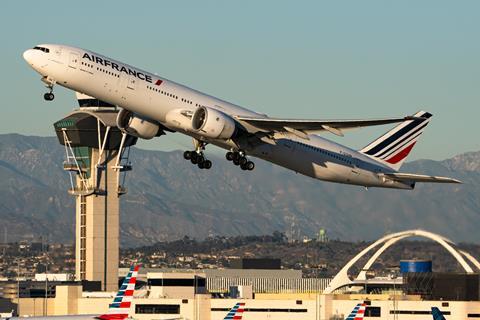 Furthermore, across the group's markets, Air France-KLM saw "even stronger yields than we did in 2019".
On shorter-haul services – excluding data from low-cost unit Transavia – Air France-KLM load factors fell slightly as Omicron spread in late November and into December, amid capacity held at around 80% during the quarter.
"Lockdown measures in Europe hit us," Zaat says, describing the impact as "a little bit of a pause" in the recovery.
Indeed, before Omicron hit, "we were hitting load factor levels similar to 2019" in October and November, he states, at close to 80%, before they fell to around 65% in December.
French domestic load factors were also down slightly as the year came to an end, "particularly with all the offices closed" amid lockdown measures introduced in response to Omicron.
Nevertheless, Air France-KLM's overall network capacity of 72% of 2019 levels for the quarter was within the guidance released pre-Omicron, of 70-75%, Zaat notes.
The group expects capacity to improve to 73-78% of pre-crisis levels in the first quarter of 2022, amid what group chief executive Ben Smith describes as a "steady recovery" across key markets.