Canadian leisure carrier Air Transat is targeting Africa for the first time with plans to launch flights between Montreal and Marrakesh, Morocco in June 2024.
The Montreal-based airline plans to operate twice-weekly flights to Marrakesh starting 12 June and continuing through 24 October. Flight frequencies will then be reduced to once weekly during the Northern Hemisphere winter.
"The Montreal-Marrakesh [route] with our partner Air Transat is the first nonstop connection to Marrakesh from North America," says Adel El Fakir, chief executive of the Moroccan National Tourism Office.
Air Transat Group chief executive Annick Guerard calls the planned flights to North Africa "a milestone in the evolution of our company".
"This exclusive year-round service will meet the growing demand, generated by the significant presence of the Moroccan community in Montreal and the undeniable tourist appeal of Marrakesh," she adds.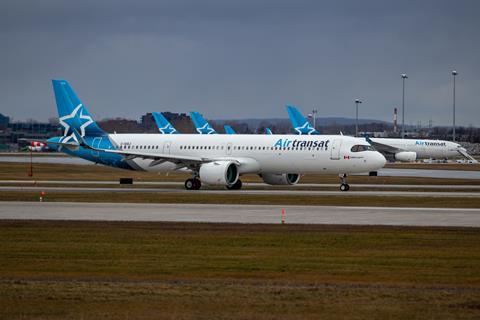 Air Transat has in recent months expanded its network of transatlantic flights with a fleet of Airbus A321LRs that is now 14 strong, according to Cirium fleets data. It holds orders for a further five of the long-range A321neo variant.
The airline is also looking to gain a greater foothold in Mexico and South America starting in December.
Air Transat anticipates operating more than 180 weekly flights from Montreal and 110 weekly flights from Toronto during the peak of the 2024 summer travel season.
The carrier's recently released summer schedule for Montreal alone includes flights to nearly 20 European cities, including Amsterdam, Athens, Barcelona, Lisbon, Paris, Rome and London.
"This schedule reflects a significant recovery, particularly in key markets of Europe and the South," the airline says.
In September, Air Transat reported a fiscal-year third-quarter profit of C$57.3 million ($41.5 million) – its first quarterly profit since late 2019.