Malaysian low-cost carriers AirAsia and AirAsia X will suspend operations from 28 March due to growing border restrictions imposed by various countries amid the coronavirus pandemic.
AirAsia will be grounded until 21 April, while long-haul sister carrier AirAsia X is to be grounded until 31 May, says AirAsia Group, which made the announcement on behalf of its component carriers and AirAsia X Group.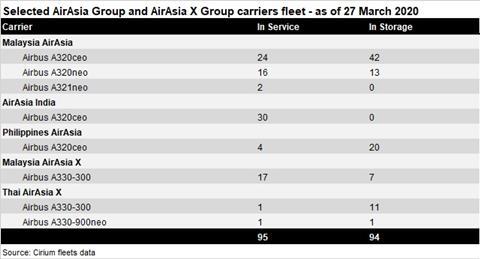 The two Malaysian AirAsia carriers are joining their overseas affiliates in India, Thailand, and the Philippines, which began grounding their aircraft earlier this month.
AirAsia India suspended flights since 25 March for three weeks, in line with a nationwide lockdown that began on the same day. Philippines AirAsia has halted flying since 20 March, over a similar measure imposed on the country's main Luzon island group. Thai AirAsia X also began a three-month suspension on 16 March.
Cirium fleets data show that close to 190 aircraft operated by the five carriers will not fly during the suspension.
"We believe this temporary fleet hibernation is the right thing to do to ensure the well-being of our guests and employees, which will remain as the top priority of our business during this challenging time," says AirAsia Group.
The group adds Thai AirAsia continues to operate domestic flights, having suspended international services. Indonesia AirAsia is also flying domestic and international flights, but on a reduced scale.
Cirium schedules data show that the grounding of AirAsia and AirAsia X will result in a significant capacity loss for Malaysia. The duo accounted for nearly 47% of Malaysia's total capacity in February, or equivalent to 2.3 million seats.
Meanwhile, AirAsia Group's management and senior personnel have taken a pay cut, ranging from 15% to as much as 100% for those "at the very top".
"This will help ensure that we can ride out this prolonged period of extremely low travel demand and at the same time minimise the impact on our employees, especially those in junior positions," says AirAsia.