Several airline leaders have expressed optimism that the transatlantic market so crucial to the financial fortunes of many European and US network carriers will begin to open up in the coming summer season.
Speaking during a briefing today, IATA's outgoing director general Alexandre de Juniac said he is "reasonably optimistic" that the European Union and the USA "should be able to find an agreement to allow passengers to travel" soon.
He expects that agreement to be reached "before the summer season", with it being "active in June".
And during a 15 March conference organised by the Royal Aeronautical Society, British Airways chief executive Sean Doyle said that the UK – which formally left the EU in January 2020 – had an opportunity to set precedents for the reopening of international markets in the coming weeks and months.
Doyle cited jurisdictions "where vaccinations are really taking root and catching up with the UK", suggesting that "there could be a framework adopted early by countries like the UK and the USA" for the return of international travel, "which could set a global protocol".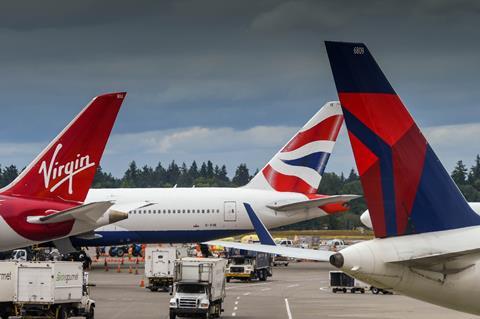 On the latter point, he cites the recommendations expected from the UK government's Global Travel Taskforce, which is due to issue a report by 12 April on how international travel can resume, with 17 May the earliest restart date.
"There's a huge opportunity to drive a global framework here," Doyle states.
Meanwhile, on 12 March, Virgin Atlantic chief executive Shai Weiss told The Times newspaper that he expects to see the beginnings of a recovery on the carrier's linchpin transatlantic routes in the coming summer season.
"We will have significant capacity available on US routes when restrictions are lifted in the UK on 17 May, and Florida holidays will be back on for the summer," he said.