While airline executives are struggling to figure out how to manage fleets, pay staff and protect their businesses for a time after the coronavirus, employees on the front lines have been dealing with a very strange new reality.
Pilots, flight attendants and gate agents are groups most-directly impacted by the sharp drop-off in passenger demand since the pandemic swept across the globe and essentially halted air travel for millions of people.
Though US airlines are maintaining a skeleton network to ensure mobility across the continent, those front-line employees are describing a kind of never-before-experienced dystopia.
"It's different," says Mike Czarnecki, a captain for a US regional carrier, on 24 April. "Bizzare. Quiet."
Czarnecki, who flies a Bombardier CRJ200, had just arrived at Denver International airport from Kearny, Nebraska. He says he flew eight passengers on that leg.
"Everything being so empty is the scary part," he says. "Terminals are empty, planes are empty. It's a surreal experience when you're used to being around thousands of people."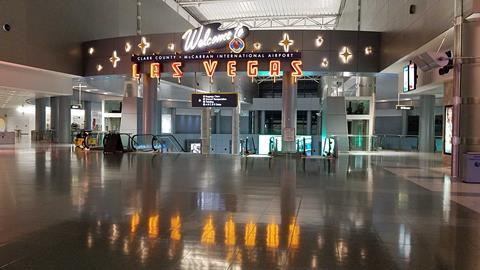 US airlines shut down much of their networks as passenger cancellations rapidly outstripped bookings when the coronavirus tore across the continent last month. Countries around the world sealed borders while many US states imposed shelter-in-place orders and other measures in an attempt to stop the virus from spreading. Nevertheless, almost 900,000 people in the United States have been infected so far, a number still rising.
Despite the dearth of travellers, passenger carriers have been required to continue flying "minimum service" if they take government financial assistance to help manage through the crisis. About $60 billion of the $2 trillion CARES Act, passed by Congress in March, was set aside for airlines and aviation-related businesses.
But the money came with strings, including the minimum service order, as well as a pledge to refrain from laying off or furloughing staff until the end of September, stopping share buybacks and keeping a lid on executive pay.
Still, airlines continue to hemorrhage money. Atlanta-based Delta Air Lines said earlier this week it is in the process of cutting daily costs from about $100 million to $50 million by the end of the second quarter. That is still a lot of money to be spending on transporting just a few passengers from place to place.
On an early-morning Boeing 737-800 flight from Las Vegas to Denver on 24 April, the total passenger count was 16, including four airline employees returning to home bases. Under normal circumstances, that aircraft can accommodate 166 travellers.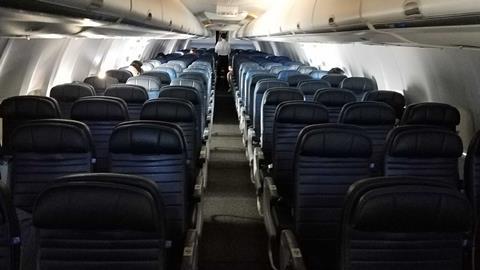 One of those four was Dan Smith, a captain for a mainline carrier, who says the past few weeks have been simply remarkable.
"I was around on 9/11 but I have never seen anything like this in my life," he says. "I come down the escalator in Las Vegas and there is no one, there is not a car outside, I don't see a soul."
"I feel like I'm in a movie," he adds. "This just doesn't make any sense."
Another pilot, who asked not to be identified, says his passenger count on a flight from Denver to Dallas later in the day, to be operated on an Airbus A321, is 22. He adds that in the last few weeks he has flown as few as one passenger, up to as many as 50.
With a fraction of the fleet flying, radio frequencies are quieter too, more-direct flight paths are cleared, and both inflight and ground delays are practically non-existent, the pilots say.
Czarnecki adds, "Sometimes on the radio I have to ask, "Hey, are you there?'"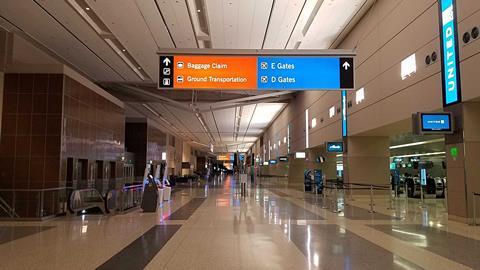 Chicago-based United Airlines has stored dozens of jets at the Denver airport, with runway 8/26 on the east side of the field closed, turned into a parking lot for at least 35 aircraft.
Earlier this week, United reported a $2.1 billion pre-tax loss in the first quarter. It has secured $5 billion from the government, of which $3.5 billion will be in grants and an additional $1.5 billion in low-interest loans. The carrier's parent company also expects to issue warrants to purchase approximately 4.6 million shares of common stock to the federal government.
The projected pilot shortage, a real problem for all airlines just a few weeks ago, has more or less evaporated. While pilot retirements and attrition continue, a potential 30% contraction of the industry raises questions about how many new pilots airlines can accommodate.
In February, United bought a flight school in Phoenix. It recently launched its "Aviate" pilot recruiting programme and intended to train 10,000 new pilots in the next 10 years. It remains unclear what effect the virus will have on such plans.
"I work for a good, strong company, and I have been with them a really long time," regional pilot Czarnecki says. "I worry more about the next generation, because we will come out of this smaller than before." He adds that his adult son is currently training to follow in his footsteps, hoping to launch a pilot career.
Despite bleak prospects, pilots express confidence airlines will emerge from the pandemic stronger, even if recovery takes years and transforms the travel experience. Passengers will want to travel again once the restrictions lift. It is up to the airlines to make air travel attractive for them, while at the same time finding ways to turn profits.
"Every so often the industry remakes itself, and this is another one of those iterations," Smith says.