Airlines based in and serving the UK have welcomed a decision by the country's government to scrap its much-maligned 'traffic light' system and simplify its requirements for arrivals at English airports.
From 4 October, England will adopt a two-tier system for categorising Covid-19 travel risk, with countries listed as either "Red" or "Rest of the World", said UK transport secretary Grant Shapps on Twitter today.
Fully jabbed arrivals from the latter category will no longer need to provide evidence of a negative pre-departure Covid-19 test, Shapps says. Initially, they will still be required to take a day-two PCR test on arrival in England, but from later in October a cheaper lateral-flow test will be acceptable.
The developments come as a relief to airlines in the country and beyond, who have complained throughout the summer that testing costs and logistics and the changeable categorisation of countries were stymieing the UK's air travel recovery versus that seen in the rest of Europe.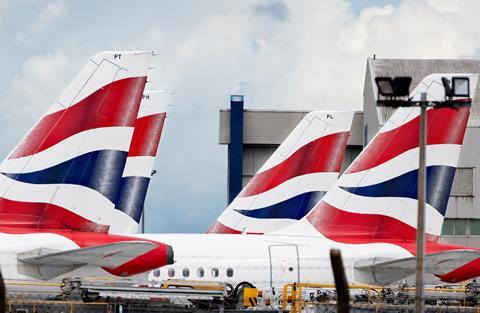 "Greater freedom of movement for many vaccinated passengers, without the anxiety of pre-departure tests and the high cost of PCR testing on arrival, will help restore traveller confidence and set the aviation, travel and tourism sectors on what is still a long road to recovery," says Dale Keller, chief executive of BAR UK, which represents most airlines that operate from and into the UK.
Describing the news as an "excellent step forward", Tim Alderslade, chief executive of Airlines UK – which represents carriers including British Airways, EasyJet, Ryanair and Virgin Atlantic – states: "This moves us much closer to the reopening of UK aviation and provides greater reassurance to passengers desperate to travel.
"It will provide a real shot in the arm for a sector that until now has not been allowed to trade properly."
The policy changes bring England – and likely the rest of the UK, should the devolved assemblies adopt the same measures – into closer alignment with European Union rules on double-vaccinated travellers, although the continued requirement for a day-two test will still make the UK restrictions more onerous.
"Across the entire pandemic, the UK's travel rules have been two steps behind the rest of Europe," says IATA director general Willie Walsh in response to today's developments, which he describes as a "move in the right direction".
He notes, however, that there is "no reason to delay scrapping the wasteful and ludicrously expensive PCR testing regime for fully vaccinated travellers", adding: "If it's the right thing to do, let's get on with it."
The UK has also removed popular leisure destination Turkey from its list of "red" destinations – from which arrivals must pay for hotel quarantine in England – alongside countries including Pakistan and the Maldives.
"The government have delivered a triple whammy of changes needed to get travel moving again," says travel commentator Paul Charles of the PC Agency. "At last, travel firms can look to the future with more positivity and protect thousands of jobs."