The US Federal Aviation Administration expects more than 2.8 million air passengers to travel on Friday, the anticipated busiest travel day of the upcoming Independence Day travel period.
The surge in customers travelling for the third major summer holiday weekend - after Memorial Day and Juneteenth – comes in the wake of a difficult week for US airlines, which navigated unstable summer weather, air traffic control staffing issues and their own operational problems. Five days after a major storm hit the busy East Coast corridor between Boston and Washington DC, the system is still recovering.
While all US airlines suffered above-average delays and cancellations as a result of the storm, United Airlines was most severely hit, and has had the most trouble restoring its network.
Since 26 June, United cancelled more than 22% of its flights nationwide on four days. On 27 June, that figure was 32%, while all other airlines cancelled 8% of their scheduled flights, according to statistics compiled by the US Department of Transportation (DOT).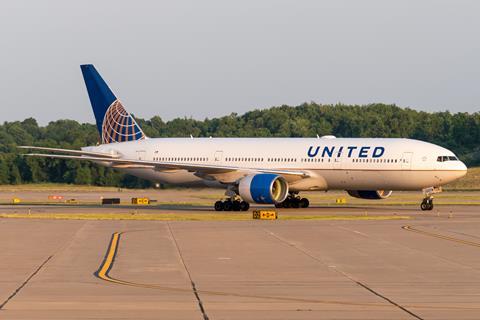 On Wednesday, the airline said things were getting better, but those improvements were short-lived.
A day later United once again topped the US airline leader board for delays and cancellations, with about 20% of scheduled flights struck completely, and 48% departing or arriving late, says flight tracking website FlightAware.com.
Many of the delays affected United's hub cities of Chicago, Denver, Newark and Houston.
"We're seeing continued meaningful improvement today after an overnight effort to further repair schedules and match separated crews with aircraft," United said on 29 June. "As the recovery progresses, delays and cancellations will continue to decline as we head into what we expect to be a very busy holiday weekend."
United did not respond to a request for information on its preparations for the long weekend on 30 June. However, by 11:30 Pacific Time, the airline had cancelled 8% or 229 flights, and about 20% or 567 flights were delayed.
United's chief executive Scott Kirby earlier this week blasted the FAA, saying in a memo to employees that a dearth of air traffic controllers were to blame. He claimed the FAA "failed us". US secretary of transportation Pete Buttigieg responded by saying that staffing issues contributed to the chaos, but only marginally.
"The data that we have suggests ATC staffing issues account for less than 10% of the delays," he said on 30 June in a media interview. "It is a factor and a factor we are working very aggressively on."
On social media, angry and frustrated customers posted videos of lengthy queues of people, stretching through terminals, waiting for customer service representatives.
Last week, United said it expected "more than 500,000 passengers" on 30 June, and 5 million over the course of the next 10 days. United's number of bookings during the period were 12% higher than in 2022, and "nearly equal" to pre-pandemic levels, it added. The airline bragged that its network "is built to run well and recovery fast".
The Transportation Security Administration (TSA), which is responsible for security check at most US airports with commercial service, estimates 17.7 million people are expected to pass through its checkpoints during the seven-day period between 29 June and 5 July.