The director general of global airports association ACI World has described IATA's expectations on airport charges as "unrealistic", as he reiterated calls for regulatory reform on the issue and a joint approach to tackling industry taxation.
Luis Felipe de Oliveira was speaking to FlightGlobal at the IATA AGM in Doha, during which the association's director general Willie Walsh had lamented that "the nightmare is becoming reality" as airports such as Amsterdam Schiphol and London Heathrow implement significant hikes in their charges to airlines.
But de Oliveira rejects Walsh's framing of the issue, instead arguing that airports and airlines need to "work together for the benefits of the passengers".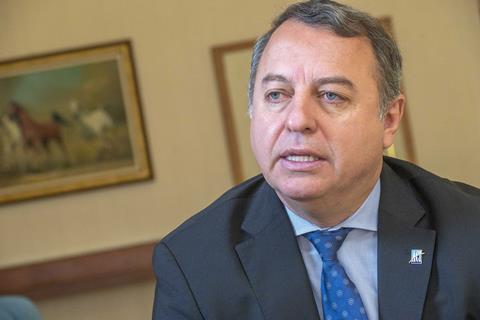 The core issue, the ACI World chief explains, is that the current regulatory framework means airports "don't have the ability to save during the good times to use during the bad times".
He explains: "In the regulatory framework that we work with today, in the good times when we have more passengers, usually the charges go down.
"In the bad times, when passengers go down, because of the regulatory framework, so charges need to go up."
But during the latter scenario, airports face strong pressure from airlines to keep charges lower – pressure that is particularly acute as the industry exits the Covid-19 crisis.
"It's something that is not fair," he states. "Our approach is that we need to change this regulatory approach, we need to have a more light-touch approach, where you have a conversation between the airlines and the airports, sharing the risks.
"The current system is lose, lose, lose."
Furthermore, de Oliveira suggests that airport charges attract an oversized level of scrutiny from airlines, when they account for an average of only 5% of ticket prices globally, according to ACI World research.
"What we really don't like about the approach [from IATA] is pointing fingers… because airport charges represent only 5% of global passenger ticket costs," he says.
De Oliveira's theory is that IATA focuses on the issue so strongly because it is one of the few cost areas that airlines have a degree of control over.
"The labour costs are very high but it's still very difficult to attack those," he says. "Fuel costs rose significantly over the past six months – and that is the main cost for the airlines.
"But the only one where they can have a possible approach [to affecting costs] is the airport charges."
He further notes that many airlines will charge significantly more than 5% of the ticket cost for passengers to add hold luggage, for example.
"If you go to dispatch your bag, sometimes you pay more than the price of a ticket," he says. "Why focus on [airport charges]?
"[Our members have needed to] construct a building, pay thousands of employees, keep facilities working, ensure safe runways, [and we] are [still] less expensive than checked baggage."
He also suggests it is arguably unfair for airlines to blame airports for seeking to boost their revenues, at a time when many carriers have been hiking fares in an effort to fix their own balance sheets.
Amid the industry-wide financial challenges, it would be far better, de Oliveira suggests, for airlines to join with airports in an effort to reduce the taxation levied on the industry.
"We need to work together as an industry to find solutions, to reduce the costs," he says. "It's better to have more passengers in our terminals than less passengers."
De Oliveira also points out that IATA is focusing on a small number of airports, whereas the charges story is different at the vast majority of the ACI World membership, in his view.
"We represent 96% of the global traffic – 80% of our members are bringing cost reductions, or benefits or incentives for the airlines nowadays," de Oliveira says. "That was never mentioned [by IATA].
"They mention three or four airports that they consider unfair."
De Oliveira's comments on charges follow the March publication of a Competition, Regulation and Airport Charges Research Report detailing its latest thinking on the issue.