As Florida braces for the impact of Hurricane Ian, numerous airports on the state's west coast will close completely, and airlines have pre-emptively cancelled hundreds of flights.
The hurricane, now crossing Cuba, is expected to make landfall in Florida's central west coast on 28 September. The National Weather Service has published hurricane, tropical storm, flash flooding and storm surge warnings for the entire Florida peninsula, with the west coast expected to bear the brunt of the storm. Parts of Florida are also under a tornado watch.
Mandatory evacuations have sent thousands of residents inland.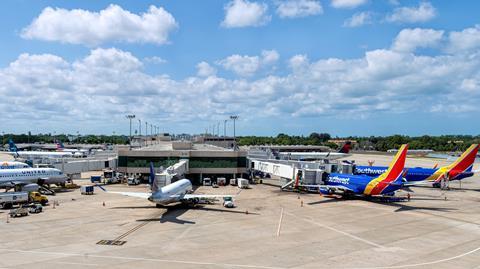 Sarasota-Bradenton International airport, which appears to be in the direct path of the hurricane, said on 27 September it will close at 20:00 local time, and all flights will end after the day's final departure at 18:00.
Tampa International airport, about 100km (60mi) north of Sarasota, will shutter at 17:00 local time.
St. Pete-Clearwater International airport says its terminal will close at 13:00 on 27 September "due to mandatory evacuation orders…. and remain closed until the evacuation order is lifted".
Southwest Florida International airport in Fort Myers, also in the storm's path, so far remains open, but several carriers – including Southwest Airlines – have cancelled all flights to and from the city in the coming days.
United Airlines says it has cancelled all flights to Sarasota, Tampa and Fort Myers on Wednesday, with additional cancellations on Thursday. Key West, at the tip of the Florida peninsula, and Orlando, in central Florida, are also expected to be affected by the weather system, United says.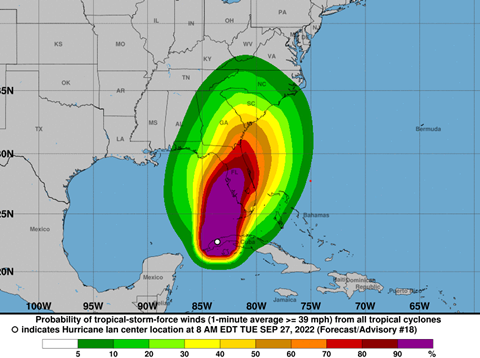 American Airlines has cancelled 175 flights across the region and issued a travel alert for 20 airports in the western Caribbean and Florida.
Ultra low-cost carrier Spirit Airlines, which is headquartered in Florida, did not immediately respond to a request for information. However, the airline issued a travel waiver for customers as 50% of its network in the continental USA touches Florida.
Hurricane Ian is currently a Category 3 storm, with winds at close to 160km/h (100mph). The National Hurricane Center expects the storm to strengthen to a category 4 over the Gulf of Mexico before it makes landfall in Florida.