American Airlines says its summer 2020 schedule will reflect the realities of the decline in demand after the global coronavirus pandemic.
International capacity will be significantly less than it was in the same period in 2019, and several route introductions will be delayed, the airline says on 2 April.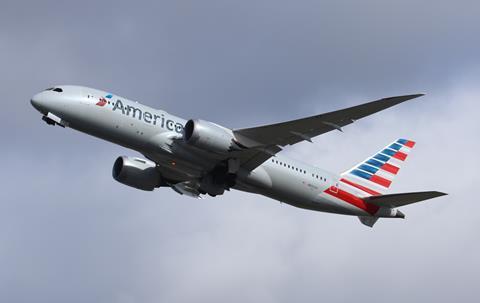 "American will suspend more than 60% of its total international capacity this summer compared to the same peak period in 2019, which includes an 80% reduction in Pacific capacity, 65% reduction in Atlantic capacity and 48% reduction in Latin America capacity. These changes are due to significantly decreased customer demand as well as government travel restrictions — both related to the coronavirus pandemic," the airline says.
Previously announced new service to from the US to Auckland, Bangalore and Christchurch, scheduled to begin in 2020, will be delayed until winter 2021. Start dates for other routes to Asia and Europe will also be pushed back into later in the year or next year.
The Fort Worth-based carrier adds that 25 summer seasonal flights will be delayed until 2021.
According to the schedule, published on American's website, numerous routes to Europe and Asia which were temporarily suspended earlier this year will resume on 4 June or 7 July.
Last month, American began flying cargo-only flights for the first time since 1984 after passenger demand dropped close to zero as the coronavirus pandemic gripped the globe and decimated the industry.