Just five days after it extended the cancellation of flights between the United States and Hong Kong, American Airlines was once again forced to revise its schedule in light of coronavirus fears and subsequent customer cancellations.
The Forth-Worth-based airline, with service from two US hubs to China and Hong Kong, becomes the second carrier after Delta Air Lines to announce cancellations well into April.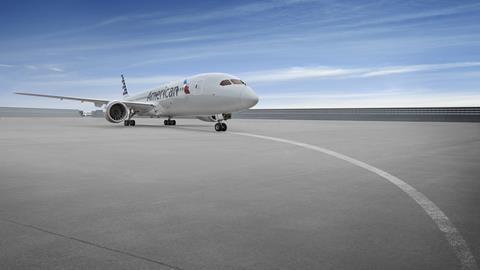 "Due to the reduction in demand, American Airlines has extended the suspension of flights to and from mainland China and Hong Kong from our Dallas-Fort Worth and Los Angeles hubs," the airline says on 11 February.
All flights between Dallas and Hong Kong will be cancelled through 23 April, with flights from Dallas and Los Angeles to Hong Kong and mainland China cancelled through 24 April, the airline says. The airline operates service to Shanghai and Beijing on Boeing 787 Dreamliners and uses its 777 aircraft for the flights to Hong Kong.
Previously, the airline had cancelled Dallas-Hong Kong service through 21 February, and Los Angeles-Hong Kong as well as mainland China service through 27 March.
By Tuesday morning, the death toll from the coronavirus surpassed 1,000, with infections at almost 44,000 in 24 countries as well as numerous cruise ships. The vast majority of these are in mainland China, where the virus originated.
This week's Singapore Air Show has proceeded as planned, even as several large manufacturers cancelled their participation. On Tuesday, several countries extended a travel ban to the southeast Asian city-state, which has reported 45 cases of the disease so far.