American Airlines is cancelling hundreds of flights through July due to staffing shortages and anticipated bad weather.
The Fort Worth-based airline says on 21 June that it was forced to strike 1% of its flights this past weekend - amounting to several hundred - due to "weather, routing and other general operations issues".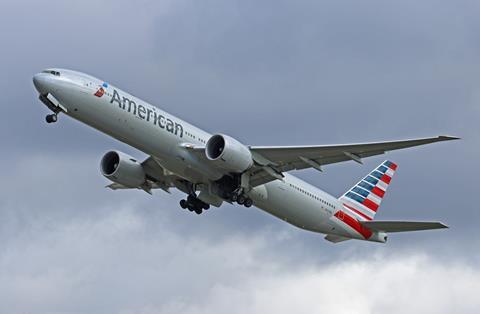 "The first few weeks of June have brought unprecedented weather to our largest hubs, heavily impacting our operation and causing delays, cancelled flights and disruptions to crew member schedules and our customers' plans," the airline says. "That, combined with the labour shortages some of our vendors are contending with and the incredibly quick ramp up of customer demand, has led us to build in additional resilience and certainty to our operation by adjusting a fraction of our scheduled flying through mid-July."
The airline says that in the first half of June, weather played a critical role on nine days, which in turn impacted one or more of its hubs.
"On several days… we've experienced multi-hour ground stops that have had a serious impact not only on our aircraft routing, but also our crew routing," the airline says. "Major weather… can have lasting impact on our crews as many exceed their eligible work time or need to be rerouted based on flight changes."
That bad weather can exhaust crew reserves, the carrier adds.
The issues at American come as the Transportation Security Administration (TSA), responsible for security screenings at about 450 airports across the USA, says that 2.1 million people passed through its checkpoints on 20 June. In the past 10 days the passenger count has been above the psychologically important two-million-mark on five of those days.
That's still about 25% lower than on the same day in 2019, but the consistent high numbers show that a sustainable recovery in the air transport industry has begun.
While domestic travel has ramped up quickly, customers looking to go overseas this summer are still waiting for widespread re-openings, and a relaxation of travel restrictions including quarantines. In the past two weeks, numerous European countries have said they will welcome tourists from the USA who are fully vaccinated or can prove a recent negative Covid-19 test result.
American's peer United Airlines has said that it sees a spike in bookings with news of every country that re-opens its borders to tourism.
The Chicago-based carrier said on 18 June that it had "set a record of new bookings since the start of pandemic (April 2020) each the last three consecutive weeks".
On 20 June, Germany joined France, Spain, Iceland, Greece, Portugal and Croatia in opening to US tourists who are fully vaccinated, or who show a recent negative covid-19 test result.
The USA, however, has still not reciprocated, despite ongoing pressure from US travel and aviation trade organisations to open up borders to European tourists before the beginning of the traditionally busy summer travel season.