American Airlines and Delta Air Lines cancelled their flights to northern Italy as passengers become increasingly skittish about traveling to areas where the coronavirus, also known as COVID-19, has rapidly spread in the past few days.
"Due to the reduction in demand, American Airlines is suspending operations to and from Milan, Italy, and New York and Miami," American says in a statement on 29 February. "Flights to Milan are scheduled to resume April 25. American continues to review the airline's flight schedule to ensure that customers' needs are accommodated and will make additional refinements as necessary."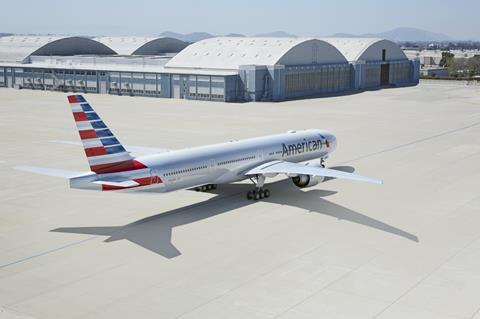 American, headquartered in Fort Worth, operates flights from John F Kennedy international airport to Milan-Malpensa four times every week, and from Miami six times. It also says on Sunday that it will be waiving all change fees for any flights booked in its network during the first two weeks of March.
Delta Air Lines joins American, saying on Sunday, "Delta is temporarily suspending its daily flight between New York - John F. Kennedy International Airport and Milan Malpensa Airport. Delta's last east-bound flight from JFK to Milan will depart on Monday, March 2, and the last west-bound flight from Milan to JFK will depart on Tuesday, March 3. Service to and from Milan will resume starting on May 1 and May 2, respectively."
The Atlanta-based airline adds that its daily flights from New York and Atlanta to Rome are unaffected.
United Airlines, which operates a daily flight to Milan from its Newark hub, could not be reached for comment.
Last week, United reduced capacity to Japan, Singapore and South Korea. Hawaiian Airlines suspended its five-times weekly service to Seoul.
All US airlines stopped flying to mainland China and Hong Kong in early February.
According to the World Health Organization, as of 1 March, the coronavirus has sickened more than 87,000 people worldwide, and killed almost 3,000. The majority of those cases are in China and Hong Kong, but South Korea and Italy have registered 3,736 and 1,128 cases respectively.
Last Wednesday, the US government announced a coronavirus task force designed to keep tabs on the spread of the disease, but in the past few days, government experts have been inconsistent in messages about the potential spread as well as making contingency plans and taking protective measures.
The Centers for Disease Control and Prevention issued a warning that outbreaks of coronavirus in the USA are inevitable, however top government officials dispute those expectations.
Washington state announced the first US death from the virus on 29 February, and state health authorities say on Sunday that the disease has probably been spreading in the region for the past six weeks. The United States is currently reporting 64 cases of the coronavirus.
On 1 March the US government outlined new travel restrictions, adding Iran to the list of countries from which entry will be curtailed. Any non-US citizen who has visited Iran and China in the past 14 days will not be permitted to enter the country. US citizens and permanent residents who meet those criteria must enter the country at one of 11 "approved airports".
The US State Department is advising citizens and permanent residents to delay non-essential travel to Italy and South Korea. It also advises travelers to Japan and Hong Kong to "exercise increased caution".