American Airlines has slashed 75% of its international capacity in response to the drop-off in demand as the global coronavirus crisis continues.
Between 16 March and 6 May, the Fort Worth-based carrier will continue to operate just one daily flight each from Dallas and Miami to London Heathrow, it says on 14 March, in response to expanded travel restrictions from Europe to the US.
Earlier on Saturday, the US government announced that its European travel ban had been expanded to encompass Ireland and the UK, beginning on 16 March. That is in addition to the ban, which took effect 14 March, on passengers from 26 other continental European countries.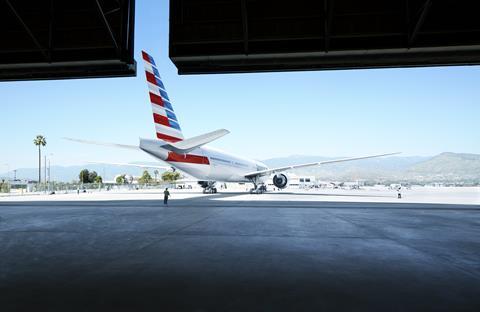 American adds that it will continue to operate three flights per week from Dallas to Tokyo. Those will be the only American non-stop connections between the United States and Asia.
Furthermore, the airline will suspend numerous, but not all, direct flights from its John F Kennedy, Miami and Dallas/Fort Worth hubs to several cities in South America, including Sao Paolo, Rio de Janiero, Bogota, Quito and Lima.
For the moment, short-haul international flights to Canada, Central America, the Caribbean and parts of northern South America will continue as normal, American says.
"In addition to the international changes, the airline anticipates its domestic capacity in April will be reduced by 20% compared to last year and May's domestic capacity will be reduced by 30% on a year over year basis," the airline says.
On Sunday, United Airlines pared some flights to London and Ireland from its schedule following the extended travel restrictions. From 20 March until at least the end of April, the Chicago-based carrier intends to operate just three daily flights to London and one daily flight to Dublin. The three daily London flights will depart from Newark, San Francisco and Washington Dulles, the airline says. Prior to the adjustment, United operated 18 daily flights between the UK and the US, and three daily flights to Dublin.
United will continue flying daily from the USA to Zurich, Brussels, Paris and Amsterdam, four-times weekly to Lisbon and "multiple" flights to Frankfurt and Munich.
Earlier in the week, Delta said it would be grounding 300 of its 910-strong fleet and significantly reduce its direct flights to continental Europe. On Sunday, it added that the only European destinations it will serve in the coming weeks will be Paris, Amsterdam, and London Heathrow. Africa service will go ahead as normal.