American Airlines will bring back long-haul international routes "slowly and cautiously", accounting for travel restrictions and gauging passenger demand to overseas destinations.
Speaking at Goldman Sachs' Industrials and Materials conference on 12 May, American's chief revenue officer Vasu Raja says the carrier has seen "an upward slope in bookings" as vaccinations give potential customers more confidence in the safety of travel.
"[But] there are a lot of things that can knock it off track," he adds.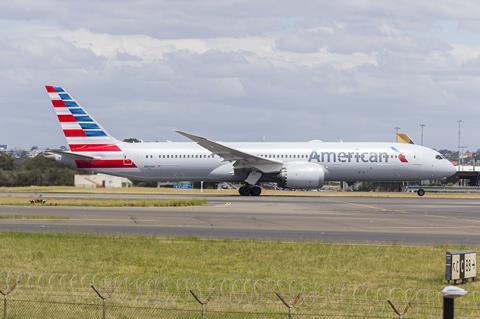 While demand for the airline's domestic flights is booming, its international long-haul network remains hampered by entry bans and requirements that prevent US citizens from freely travelling to numerous countries.
During the company's first-quarter results call last month, executives said the airline's long-haul network will be "a very small part of our system" during the all-important summer vacation travel season, with Atlantic and Pacific long-haul travel, usually among the company's most important routes, at about 3-5% of total seat capacity during the season's peak. Latin America routes will account for about 12% of seats.
"We will bring [the network] back slowly and cautiously in such a way it can deliver the same kinds of returns that we have been able to bring back in the domestic system," Raja says. "The international that will be there [after the crisis] is going to be way different than the international that went away in 2019."
During 2020, American retired 172 jets in an effort to cut costs and increase efficiency. These included all its Airbus A330s, which left American with just two widebody types: Boeing 777s and 787s.
Step-by-step, American is reintroducing flights to Europe, Latin America the Asia Pacific region that it had suspended last year. Numerous countries like Germany – home to major European hub Frankfurt International airport – have signalled they will open their borders to vaccinated non-citizens as infection cases decline and immunisation programmes spool up.
ROADMAP
On 11 May, American chief executive Doug Parker joined 22 other aviation, hotel, theme park and travel industry executives in urging the US government to begin planning to reopen to foreign visitors ahead of the traditionally busy mid-year holiday season.
The US should "seize this opportunity and quickly develop a roadmap to safely reopen international travel to the United States by this summer, starting with a travel corridor between the US and the United Kingdom," say the executives in a letter to President Joe Biden.
"While US borders remain closed to much of the world, the remarkable scientific advancements to combat the Covid-19 pandemic and the tremendous vaccine deployment achieved by your administration have allowed the safe resumption of many activities," the letter adds. "For all its economic and cultural contributions, international travel should be among them and it will hasten the economic recovery we all desire."
The executives call on US leaders, who will be meeting their G7 peers at a summit in the UK next week, to "seek commitments from other leaders to develop and implement a global framework for safely and fully reopening international travel between countries".