ANA Group carriers will steadily ramp up domestic passenger capacity to reach pre-pandemic forecasts, as the airline eyes a recovery in domestic travel demand this year.
The group, comprising mainline carrier All Nippon Airways, as well as low-cost unit Peach, expect to operate the same amount of capacity "as planned…before the Covid-19 pandemic" for fiscal years 2022, which begins on 1 April.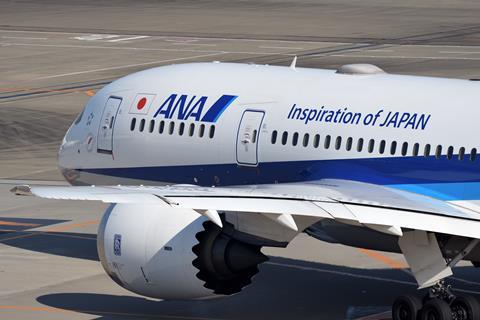 "ANA will flexibly capture demand by utilising larger-sized aircraft, deploying aircraft [meant for] international routes, and offering additional flights. Peach will increase flights to capture demand for leisure travel, which is expected to recover at an earlier stage, as ANA and Peach will leverage their strengths to bolster the ANA Group network," states ANA in an 18 January media release.
The schedule forecast comes as the airline group pursues "transformative measures to shift to a new airline business model".
As part of these measures, both carriers will jointly develop flight schedules in the new financial year, with ANA transferring operations of selected international and domestic routes to its low-cost unit, and add its code to a number of Peach flights.
Detailing plans for its domestic network, ANA says it will tap into business travel demand out of Nagoya, increasing the number of flights to several domestic points, including Sapporo, Sendai and Okinawa.
On the international network, ANA hopes to tap into strong transit demand between Asia and North America. To do this, the airline has shifted a number of North American flights — including Washington DC, Seattle as well as Vancouver — from Tokyo Haneda airport to Tokyo Narita airport.
This will allow the airline to also "capture cargo demand", states the carrier.
Peach will also resume the flights to cities such as Taipei and Shanghai in the new financial year, "based on recovery in [inbound travel] demand".
As for cargo operations, ANA expects "robust" demand to continue through the year. It states that it will "maximise the use of its 11 freighters", adding extra cargo charter flights through the year.
States the carrier: "In order to accurately assess fluctuations in demand amid the impact of Covid-19 and to respond flexibly, ANA and Peach will continue to announce updates to the flight schedule on a monthly basis, and when demand is expected to recover, appropriate action will be taken by utilising large-sized aircraft and increasing the number of flights."
In October, the airline cut its full-year earning forecast, flagging a loss, instead of a small profit, amid a "delay in full recovery" from the "extended impact" of a prolonged coronavirus pandemic globally.
Separately, compatriot Japan Airlines also disclosed its domestic schedule plans for the coming financial year, which will see capacity increased on a number of regional routes.
These include flights in Hokkaido, as well as around Okinawa. On the domestic trunk routes, JAL will increase the number of flights between Osaka Itami and Kagoshima, as well as Naha.
The Oneworld carrier adds that it will "steadily introduce" the Airbus A350-900 into its domestic network through the year.