Argentina, one of the last countries in Latin America to relax Covid-dependent entry restrictions, re-opens its borders to vaccinated foreign tourists on 1 November.
The country's transportation ministry writes on Twitter on 29 October: "After releasing the entry quotas and eliminating the quarantine for residents, authourised [travellers] and tourists from neighbouring countries…the entry of tourists from non-bordering countries that meet these requirements is enabled."
The requirements include full vaccination, or a negative PCR test result within 72h prior to entry.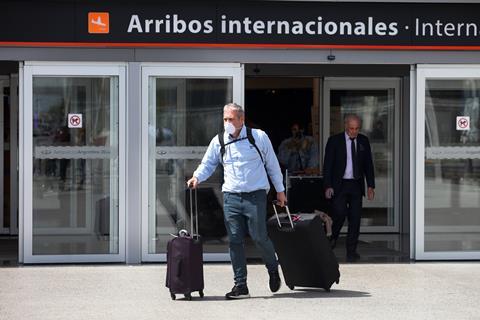 Argentina is one Latin America's most-important markets for US carriers, and the industry hopes the opening will boost region's growth ahead of the busy end-of-year travel season – the summer season in the Southern Hemisphere.
"What we have seen is that as soon as travel restrictions are eased, travel rebounds – we have seen this across the globe," says IATA Latin America chief Peter Cerda. "Latin America and the Caribbean [are] essentially open for business now, demand is bound to pick up, especially as the Southern Hemisphere heads into high season."
American Airlines, United Airlines, Delta Air Lines and Aerolineas Argentinas fly between the United States – from New York, Miami, Dallas-Fort Worth, Houston and Atlanta – to Buenos Aires.
According to Reuters' vaccination tracker, about 57% of the Argentine population has been fully vaccinated against Covid-19, as of 1 November. In the USA, the Centers of Disease Control and Prevention (CDC) says that number is 58%.
Argentina's entry restrictions were among the toughest and longest-running in the world, harming the country's aviation industry and wider economy.
According to IATA, in August, Argentina's international traffic was down a whopping 92% from 2019 levels. By comparison, in Mexico, which effectively remained open during the year-and-a-half-long crisis, international travel was down only 16% from 2019 levels. In the USA, traffic was 56% over the two years.
Domestic travel in Mexico and the USA were 19% lower in August than in the same month in 2019, with Argentina showing a domestic decline of 68%, IATA said.
At its annual leaders' forum in Bogota last week, Latin American airline trade group ALTA said it expects full domestic travel recovery in the region by 2023, and for international travel to return to previous levels in 2024.