Argentine low-cost carrier Flybondi has strongly protested the government's decision to keep Buenos Aires' secondary airport El Palomar closed as the country slowly reopens following the coronavirus crisis.
El Palomar, located near the centre of the sprawling Argentine capital, had been the chosen airfield for low-cost carriers such as JetSmart and Flybondi as they expanded their services to an ever growing middle class prior to the global pandemic.
The country's government-owned flag carrier, Aerolineas Argentinas, and other international carriers use the larger Ezeiza International airport, on the city's far southwestern outskirts.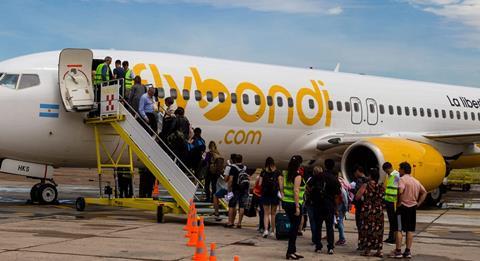 Last week, Argentina's airport authority ORSNA ruled that Ezeiza was the only one of the region's three airports that satisfied the health and safety requirements to re-open during the global health crisis, effectively freezing out El Palomar and the LCCs which operate from the field.
The city's third airport, Jorge Newberry Aeroparque, also near the city's centre, closed in August for major repairs - including expansion of a runway and a terminal - and won't reopen until at least February 2021. That airport was primarily used for domestic flights, which have been transferred to Ezeiza until the construction is complete.
"Flying from Ezeiza is not a commercial option for Flybondi nor for our passengers, and the government authorities and regulatory bodies are aware of this reality," says Flybondi president Esteban Tossutti on 25 October. "Their decision shows the lack of respect for passengers who purchased tickets to fly from El Palomar…in addition to the thousands of passengers who can only travel by plane if they do so from an airport that can be reached by public transport."
"It is also very striking that in this context of economic complexity and deep crisis in the industry, thousands of jobs are put at risk," Tossutti adds.
FlyBondi says that El Palomar, which was created as the first low-cost airport in Latin America, employs more than 1,000 people, 80% of whom live in close proximity to the airfield.
Prior to 2018, El Palomar was a military airport which also served general aviation aircraft. As a part of a broad liberalization of the country's air transport system at the time, the previous government loosened the regulatory shackles and opened the field to low cost carriers which stormed into one of Latin America's largest economies.
Numerous LCCs including Flybondi, JetSmart and now-defunct Avianca Argentina, Norwegian Air Argentina and LATAM Airlines Argentina, seized a share of the growing business as government-owned Aerolineas continued to suffer under bureaucratic management and a rebellious pilots' union.
The LCCs offered regular scheduled service on routes previously only serviced by Aerolineas and its subsidiary Austral Lineas Aereas, charging fares as low as $1 to attract a growing middle class to the efficiency of travelling the vast country by air. Previously, a nationwide bus network was the only real alternative to Aerolineas and Austral.
A new government, elected a year ago, threatened to stop the LCC gold rush, and the coronavirus-prompted shelter-in-place orders coupled with draconian punishments for violating them, decimated travel demand.
The possibility of using the El Palomar airport had made the low-cost model profitable in the first place, Tossutti says, and he calls for "continuity of a business model that in little more than two years has managed to democratize the airplane as a means of transport and transform it into an accessible option for all the people of this country".
Tossutti's appeals to the government come just as Argentina is taking its first tentative steps to open up after one of the world's longest coronavirus-prompted lockdowns.
Beginning this week, the government has begun tentatively re-opening the country for business. Travellers from neighboring Latin American countries Bolivia, Brazil, Chile, Paraguay and Uruguay will be able to enter Argentina for tourism from 30 October if they can verify a negative coronavirus test within the previous 48 hours.
Domestic non-essential travel and other international travel is still strongly restricted.