Long-haul air services departing European airports accounted for more than half of CO2 emissions from all operations in 2020, while making up just 6% of flights, according to Eurocontrol data.
The figure is broadly in line with that from 2019 – when it was 48%, versus 51% for 2020 – despite the devastating impact of the pandemic on the sector, the aviation body says.
At the other end of the spectrum from the 2,160nm (4,000km)-plus long-haul flights, the 31% of flights that were under 270nm had only a 4% share of CO2, Eurocontrol states.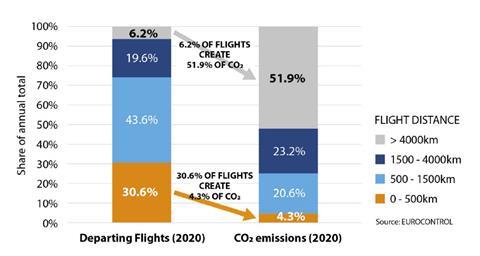 It points out that while short-haul flights are an "excellent candidate for early electrification", data shows that even removing 100% of CO2 emissions from such services would have a small impact on the overall total.
"Increasing, the supply of sustainable aviation fuel to cover just 10% of the needs of long-haul would do more than can ever be done in short-haul to reduce net CO2 emissions," it suggests.
Eurocontrol confirms the figures take into account all emissions for flights departing from European airports – whether those emissions occur inside or outside European airspace.
It further clarifies that a long-haul flight would not have its return journey counted on that basis, because the service would depart a non-European airport. Domestic and intra-European flights would have both legs counted, however, given the return flight would depart from another European airport.
If long-haul return flights departing non-European airports were included in the data, the proportion of total CO2 emissions from such services would therefore be significantly higher.
Eurocontrol has previously reported that overall CO2 emissions fell largely in line with flight numbers during 2020.
Not easy being green
As ever with assessments of emissions, different choices of measurement can justify very different conclusions.
Using flight numbers is one approach – though using that metric masks a more-complex picture around the capacity of aircraft and the fact that long-haul services involve hours spent in level flight.
Eurocontrol points out that 6% of long-haul flights departing Europe account for 10% of seats and more than 40% of seat-kilometres.
With this in mind, data shows that short-haul flying is arguably a bigger polluter when measured in emissions per seat kilometre, because a much larger proportion of the flight time is spent on take-off and landing, which use significantly more fuel than level flight.
At the same time, some argue that passengers have less-polluting modes of transport available for short-haul journeys, making air travel harder to justify in environmental terms.