Avelo Airlines, a new US startup passenger carrier, has completed its inaugural flight from Burbank, in the Los Angeles suburbs, to Santa Rosa, north of the San Francisco Bay Area.
The flight, XP101, operated on a Boeing 737-800, left Hollywood-Burbank airport at 10:39am local time and took 1h 3min, according to flight tracking website Flightaware.com. The airline will fly a return revenue flight to Burbank later in the day.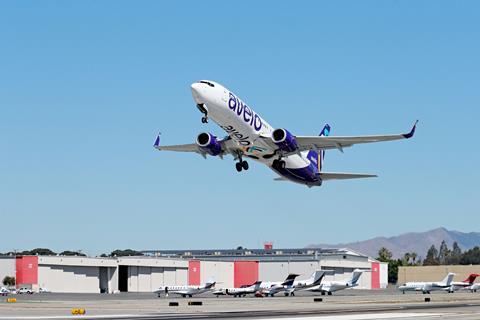 "Today …. we're embarking on a new era of choice, convenience and everyday low fares," says Avelo founder and chief executive Andrew Levy. "Avelo was created to inspire travel by making it easier and more affordable to reconnect with family, celebrate with friends and explore new places."
Avelo Airlines, which launched on 8 April, is the first of two new domestic airlines expected to enter the US market this year. The other is Breeze Airways, which is rumoured to begin selling tickets in the coming days.
Houston-headquartered Avelo, a project led by ex-United Airlines chief financial officer Levy, is backed by $125 million in private equity and is launching operations with a fleet of three Boeing 737-800s. Levy hopes to expand to at least six aircraft by year-end. The cabins have high-density, 189-seat configurations.
The carrier will initially connect Burbank to eleven cities in the western third of the USA.
Avelo's strategy is to offer low fares catering to price-conscious leisure travellers on flights from the Los Angeles area to underserved smaller cities. For now, Avelo's route network reaches no farther east than Grand Junction, Colorado.
In addition to the first flight to Santa Rosa, this week Avelo will launch connections from Burbank to Pasco, Washington and Bozeman, Montana. It will commence flying its full schedule by the end of May, the airline says.
Initially, Avelo's aircraft will run out-and-back trips, returning to its Burbank base every evening.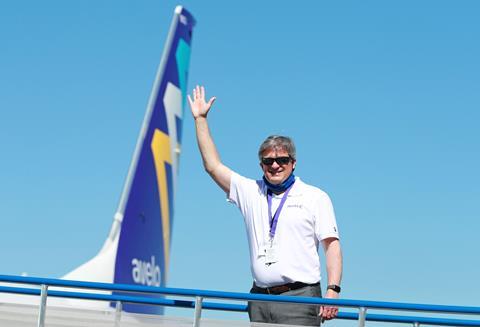 Levy has said that he hopes to set up a second base, possibly in the eastern part of the country, with the same strategy, by the end of 2021.
The new airline hit a snag last week during its critical start-up phase after its reservations system, run by a third party, was plagued with technical issues, preventing potential customers from booking online for at least three days.