Avelo Airlines on 7 September opened a new operational base in Las Vegas, the ultra-low-cost carrier's sixth in the USA.
Operating out of Las Vegas since October 2021, Avelo is now permanently basing one 147-seat Boeing 737NG at Harry Reid International airport.
The ULCC says it has hired about 50 pilots, flight attendants and maintenance technicians who live in Las Vegas, with plans to add more locally based employees in coming months.
"Avelo is considering adding a second 737 in 2024, enabling additional destinations and [Las Vegas]-based jobs," the airline adds.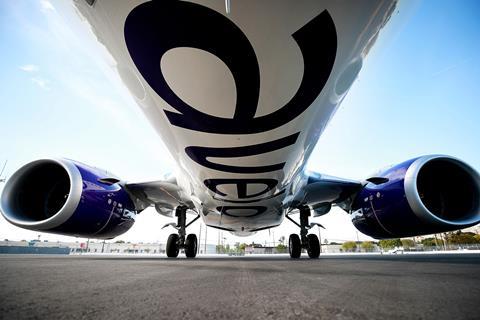 Avelo plans to launch five new routes from Las Vegas – starting with its first flight to Bend, Oregon on 7 September – and to increase the frequency of an existing route.
Starting on 8 September, Avelo plans to double its flight frequencies from Las Vegas to Sonoma, California to four times weekly. On the same day, the ULCC will launch its first flights from Las Vegas to Brownsville, Texas and Arcata, California.
Twice-weekly service from Las Vegas to Dubuque, Iowa and Salem, Oregon will begin on 13 September and 5 October, respectively. The discounter's operations from Las Vegas to Salem will be the first commercial flights to Oregon's capital city in nearly 15 years.
"We are excited to start the exclusive nonstop access to Vegas that Avelo's new base will offer our customers from these six communities, with more to come in the future," says Andrew Levy, Avelo's chief executive.
With headquarters in Southern California, Avelo maintains operational bases at Raleigh-Durham International airport (North Carolina), Hollywood Burbank airport (California), Tweed-New Haven airport (Connecticut), Orlando International airport (Florida) and New Castle airport (Delaware).
The carrier says it has operated more than 25,000 flights and transported more than 3 million passengers since launching in April 2021, following a strategy of targeting secondary cities and smaller airports in major metropolitan areas
Cirium fleets data show that Avelo currently has 16 737-700s and -800s in service, all of which are between 10 and 20 years old.
Last month, Avelo revealed plans to operate its first flights outside the continental USA with new routes from the East Coast to the Caribbean starting in November.