US ultra-low-cost carrier Avelo Airlines plans to launch the first commercial air service from western Oregon's Salem Municipal airport in nearly15 years.
The start-up discount carrier said on 14 July that it was planning twice-weekly flights between Salem and Las Vegas and Salem and the Los Angeles metropolitan area beginning in October, connecting air travellers from the region to two popular warm-weather destinations.
While Salem is Oregon's capital city, with a 2022 population of nearly 178,000 according to the US Census Bureau, the region's residents previously had to travel to Portland, about 46mi (74km) to the north for regular commercial air service.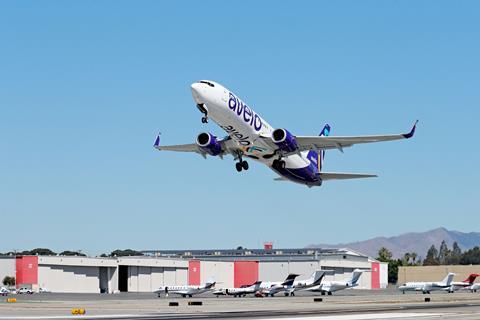 Avelo's move follows its pattern of targeting secondary cities and smaller airports in major metropolitan areas – essentially, filling some of the void left by the contraction of regional airlines. Increasingly, mid-sized cities are looking to low-cost narrowbody operators such as Avelo, Breeze Airways and newcomer Red Way based in Lincoln, Nebraska, to boost business and connect residents to the rest of the country.
The new routes to Salem were hailed as a win by local leaders.
"The Salem airport is an asset to our community, providing residents with option other than Portland or Eugene for commercial flights," says Marion County commissioner Kevin Cameron.
"Commercial passenger air service will make investing in our city easier and will make the world a little more accessible for our residents who travel," echoes Salem mayor Chris Hoy.
The California-headquartered carrier recently established its sixth operational base at Las Vegas' Harry Reid International airport, launching new routes to Bend (Oregon), Brownsville (Texas), Dubuque (Iowa) and Arcata (California). It has operated flights between Las Vegas and Santa Rosa, California since September 2021.
Starting 7 September, Avelo will base one of its 15 Boeing 737NGs in Las Vegas.
Avelo also has operational bases at Raleigh-Durham International airport (North Carolina), Hollywood Burbank airport (California), Tweed-New Haven airport (Connecticut), Orlando International airport (Florida) and New Castle airport (Delaware).
The carrier says it has flown more than 20,000 flights and transported some 2.5 million passengers since launching operations in April 2021.