US discounter Avelo Airlines is planning to add a second Boeing 737NG to its base at Delaware's Wilmington airport – and nine new non-stop routes.
California-headquartered Avelo said on 20 April that the expansion raises its total of non-stop routes from the airport in New Castle County to 14 – "the largest number… ever offered" there.
Avelo has flown more than 25,000 passengers from Wilmington since launching service there in February and is "pleased with the enthusiastic reception", says chief executive Andrew Levy. "Based on this initial customer response to our first five Florida routes, we are excited to bring Wilmington these nine new routes to several of our most popular East Coast destinations."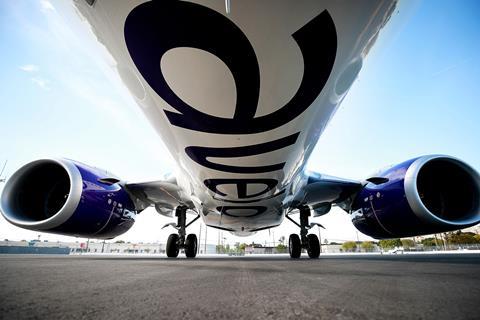 The ultra-low-cost carrier (ULCC) is set to connect Wilmington to Charleston (South Carolina), Daytona Beach (Florida), Greenville (South Carolina), Melbourne (Florida), Myrtle Beach (South Carolina), Nashville (Tennessee), Raleigh-Durham (North Carolina), Savannah (Georgia) and Wilmington (North Carolina). All of the flights are scheduled to begin in late June.
The start-up carrier initially based one 149-seat 737-700 to connect Wilmington to five Florida cities – Orlando, Tampa, Fort Lauderdale, Fort Myers and West Palm Beach. Earlier this month, Avelo replaced the jet with an 189-seat Boeing 737-800, and the carrier plans to add a second 737-800 on 22 June.
Avelo's expansion in Delaware is the latest example of local and state governments embracing ULCCs that provide point-to-point service to underutilised airports. Delaware governor John Carney noted that Avelo is "providing passengers from our region with an affordable and convenient way to travel".
With some 500 regional jets parked across the country due to the ongoing pilot shortage and supply chain issues, airlines are "upgauging" to aircraft with greater capacity and mid-sized cities are turning to narrowbody operators such as Avelo, Breeze Airways and newcomer Red Way – which plans to launch operations in June from its base in Lincoln, Nebraska.
For example, Breeze – which has 12 Airbus A220s in service and a further 68 of the type on order – said last month that it plans to boost air service to West Virginia International Yeager airport in Charleston by connecting it to at least five cities over the next two years. The discounter is set to launch operations from Charleston on 31 May.
"This innovative partnership comes after years of decline in available destinations from smaller airports around the country, including West Virginia International Yeager airport," the West Virginia Department of Tourism said of Breeze's expansion, adding that the flights "will more than double air connectivity to West Virginia's capital."
With its latest expansion, Avelo's network has grown to include 43 US cities since launching in April 2021. The airline operates 15 737-700s and -800s, all between 10 and 20 years old, according to Cirium fleets data.