Airlines and airports have welcomed the UK government's announcement that it is to lift testing and self-isolation requirements temporarily imposed in late November to combat the spread of the new Omicron variant of Covid-19.
UK prime minister Boris Johnson today said that with Omicron prevalent in the UK, the measures are having a "limited impact" on the growth in cases while imposing "significant costs" on the travel industry.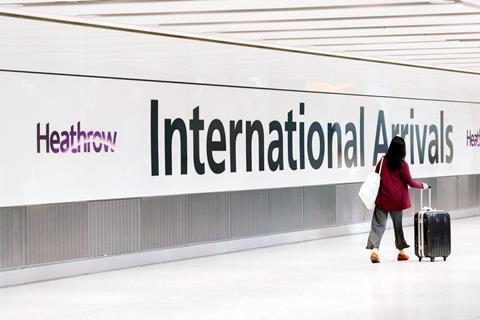 The requirement for a pre-departure test to arrive in England will be scrapped from 7 January, as will rules requiring visitors to self-isolate on arrival until they receive a negative PCR result.
"We will be… returning instead to the system we had in October last year, where those arriving in England will need to take a lateral flow test no later than the end of day two and, if positive, a further PCR test to help us identify any new variants at the border," says Johnson.
Operators have been calling for the measures to be lifted, pointing to the limited impact they were having once Omicron became an established variant in the UK.
IATA chief executive Willie Walsh says: "This is a long overdue and welcome step by the UK back to its pre-Omicron regime. It's clear that the extra measures had little or no impact on the spread on this new variant. But the additional measures have added significant and unnecessary cost for travellers and further damaged the travel recovery. It's now time to look again at the overall scheme and remove testing entirely for vaccinated travellers."
Karen Dee, chief executive of UK trade body the Association of Airport Operators, says: "Removing all the temporary travel restrictions is a welcome recognition that they no longer serve a purpose, now Omicron is well-established in the UK.
"The UK government's decision follows the same approach some other European countries have taken in recent days, such as the Republic of Ireland. The devolved governments should now follow suit, enabling a continued four-nation approach to travel in the UK."
Virgin Atlantic chief executive Shai Weiss calls the move "welcome progress and a necessary step towards frictionless air travel", and notes travellers can now book with confidence.
"Customer demand will be boosted in a critical booking window for the travel industry and vital testing capacity can be reallocated where it is needed the most – in hospitals, schools and crucial national infrastructure," he adds.
In a social media posting, UK aviation minister Robert Courts says: "We'll do a full review of international travel for 2022 before the end of January to provide certainty for passengers & the industry."
Weiss says: "We look forward to working together towards the next review at the end of January, when the ultimate goal will be removal of all testing for travel and developing a playbook for how to deal with any new variants."