Aviation is able to meet the European Union's target to significantly reduce net CO2 emissions by 2030, but only through a heavy reliance on market-based measures (MBMs) and the absorption of billions of euros in extra costs, according to the region's network manager Eurocontrol.
Its assessment came as the European Commission works on proposals for the so-called 'Fit for 55' climate and energy package, under which the bloc is aiming to reduce economy-wide CO2 emissions by 55% from 1990 levels by 2030. The first votes on the package are due to take place later this year.
Publishing the conclusions of a report – Think Paper: Reducing aviation emissions by 55% by 2030 – on 12 May, Eurocontrol suggests that under all of its traffic growth scenarios, MBMs would account for between 75% and 87% of the net CO2 emissions reduction required to meet the proposal's target.
Carbon credits from the EU's Emissions Trading System (ETS) – which covers intra-EU travel – would be the main MBM recourse for the aviation sector, the report suggests, while ICAO's CORSIA scheme would also contribute via the offsetting of any growth in emissions on international flights that are not intra-EU.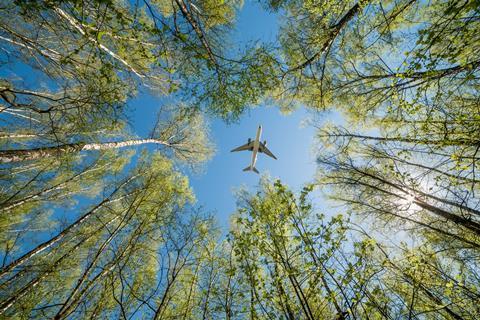 Other initiatives would play a smaller part, reflecting the sector's lack of transformative options to achieve emissions reductions at source over the coming years. Air traffic management (ATM) improvements are estimated to be the second-biggest contributor to cutting net CO2 emissions, achieving 8-12% of the total, while fleet upgrades contribute 1-3%.
Sustainable aviation fuel, which is a key driver of longer-term net-zero roadmaps for the industry, is only forecast to contribute 4-9% of the net reduction through to 2030.
Achieving the ambitions of the Fit for 55 programme will theoretically come at a high cost to Europe's aviation industry, not least because the proposals include the removal of jet fuel's tax exemption.
Eurocontrol's report estimates the "cumulative extra cost" of the decarbonisation measures over 2022-2030 will amount to €62 billion ($65 billion) in its base-case traffic scenario. Some €29 billion of that total comes from extra taxes on jet kerosene (on intra-EU flights); €23 billion from extra ETS costs (applied in the EU, Switzerland and the UK); and €10 billion from extra fuel mix costs (based on a 5% SAF/95% jet kerosene mix).
Of the extra costs, the report says that those in 2030 alone are estimated at €14 billion. To put that in context, the European airline industry achieved a net profit of €6.5 billion in 2019, IATA data shows.
Some of the extra costs could be offset, however, by measures including the implementation of the Single European Sky, "other operational improvements" and an accelerated fleet-renewal programme among airlines, Eurocontrol says. Full achievement of those initiatives would offset almost half of the €62 billion in extra costs.
And given commercial aviation has separately committed to achieving net-zero emissions by 2050 (or earlier at an individual airline level), some of the extra costs involved in Fit for 55 are likely to be incurred regardless of the initiative that introduces them.
"This is a challenging time for the European aviation industry, but the pathway to decarbonisation is attainable: aviation can cut CO2 emissions by 55% by 2030 compared to 1990 levels," says Eurocontrol director general Eamonn Brennan.
But he also cites a need to "accelerate aviation decarbonisation by prioritising actions, fostering the transition by inter alia offering financial support and encouraging alliances, and balancing taxation with the need for aviation to recover [from the Covid-19 crisis]".
Eurocontrol oversees the network management of more than 40 members states. Pre-pandemic, around 85% of the flights it tracked were commercial airline passenger operations, with rest accounted for by all-cargo, business aviation and non-scheduled services.