Brazilian airline Azul is pursuing consolidation opportunities, which it views as a means of helping the airline sector recover from the ongoing pandemic-driven downturn.
Azul adds that its evaluation of consolidation options is likely why LATAM has cancelled the Azul-LATAM codeshare deal.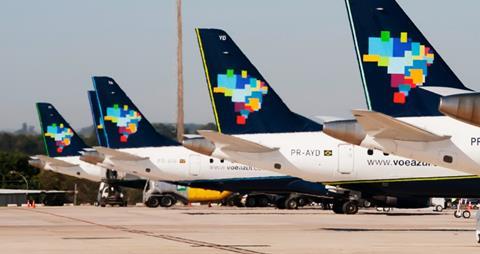 "Azul believes that consolidation is an important part of the post-pandemic industry response, and the company is in a strong position to drive that consolidation," Azul says on 24 May. "The company has hired advisors and is actively exploring industry consolidation opportunities in the region."
Azul hired those advisors in the first quarter, says chief executive John Rodgerson.
"We believe the cancellation of the codeshare by LATAM is a reaction to that process," he adds.
Neither Azul nor LATAM responded to requests for more information about the status of the codeshare, which the airlines initiated in August 2020 as a response to the pandemic.
In 2020, Azul described the agreement, which applied to 64 domestic Brazilian routes, as an "innovative" pandemic response that would "help kick start the economies of the region".
"Azul is emerging from this crisis in a leadership position in terms of liquidity, network recovery and competitive advantages," adds Rodgerson on 24 May. "I am confident that we are in the best position to pursue strategic alternatives."