A proposal by Mexican aviation authorities to further reduce traffic at Mexico City Benito Juarez International airport – the country's busiest – in favour of the newer but more distant Felipe Angeles International airport has drawn fire and questions from the International Air Transport Association (IATA) and Mexican airline heavyweight Aeromexico.
The Mexican government is planning to reduce the number of hourly operations at the older airport to 43 from 52 beginning on 29 October. That comes on top of a reduction from 61 hourly operations last year.
"In the first instance, the measure will affect all passengers using that airport, industry employees and the attraction of new investments that depend on having legal certainty and adequate air connectivity," Mexican flag carrier Aeromexico said on 31 August.
When the authorities requested a reduction of operations to 52 from 61 last year, Aeromexico says it "complied punctually and fully with the agreements and was even the airline that reduced operations the most".
Now, it "awaits to know how this new adjustment will be implemented and continues to analyse its scope and effects".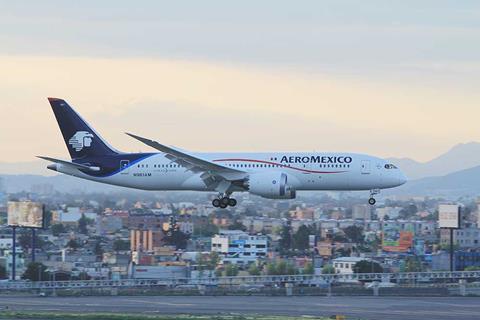 Peter Cerda, IATA's regional vice-president for the Americas, condemns the decision.
"This decision by the government does not take into account the interests of consumers, nor does it respect the necessary consultative process with operators and users, especially at the country's main airport," he says. Such measures must be taken with the "utmost technical and operational rigor", based on studies and analysis.
"This decision also deviates from international standards and best practices that hold that capacity changes should be made through a collaborative process with all stakeholders to ensure transparency, predictability and certainty," the Montreal-based airline organisation continues.
IATA represents some 300 airlines, comprising 83% of global air traffic.
In January, the Mexican government moved to ban cargo-only flights from the main airport, channelling that traffic to Felipe Angeles, which had officially opened in March 2022. IATA protested at that time, too, saying the new airport did not have adequate facilities and infrastructure so that the cargo operators could work smoothly. Its complaints included the lack of properly equipped cargo warehouses, customs systems and enough brokers and registered agents, as well as compliance of third-party certifications required by operators that export cargo to other countries and regions.
The decision to throttle down aviation volume at Mexico City's older airport has also affected a proposed joint venture project between ultra-low-cost carriers Allegiant Air and Mexico's Viva Aerobus. On 31 July, the US government had said it would suspend consideration of the JV over the conflict.
Allegiant on 30 August also railed against the US government's stance.
In a filing with the US Department of Transportation (DOT), the Las Vegas-based carrier said that by intervening in the process, "the State Department and DOT are foreclosing entry that would improve service and lower prices".
The two ULCCs had announced their planned joint venture in December 2021, and their proposal was approved in October 2022 by Mexico's Federal Economic Competition Commission. The airlines originally planned to kick off the commercial collaboration in the first quarter of 2023. The carriers pledged reciprocal access to loyalty programmes, sales systems and route networks. Allegiant would launch operations to Mexico for the first time, while Monterrey-headquartered Viva Aerobus would gain access to Allegiant's extensive network in the USA.
Allegiant would also make a $50 million investment in Viva Aerobus and gain a seat on the Mexican ULCC's board through the deal.