Relaunched UK regional carrier Flybe will begin flights on 13 April, initially focusing on high-frequency connections linking Belfast City to Birmingham and Glasgow airports.
The launch of services comes a little over two years after the collapse of the original Flybe. The revamped carrier, established from of the assets of the former operation, will begin a four-times-a-day service between Belfast City and Birmingham on 13 April; flights from Belfast City to Glasgow on a similar frequency will begin on 14 April.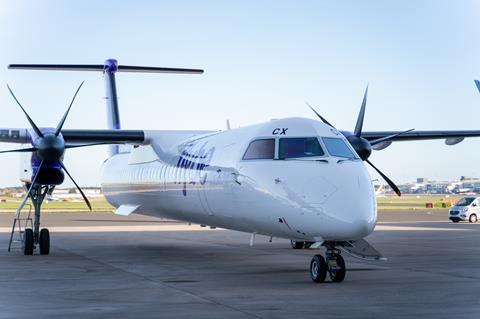 The routes will be followed on 28 April by first international flights, linking Amsterdam Schiphol with Birmingham and East Midlands airports, as well as services from London Heathrow to Belfast City and Leeds Bradford. The routes are among 23 the airline plans to roll out over the summer.
Twelve of the routes will operate from Belfast City airport, where the Birmingham-headquartered airline has established its second base Cirium schedules data shows the former Flybe operation was serving a dozen points from Belfast City, comprising predominantly the same network, at the time of its collapse.
Flybe's network also includes Amsterdam flights to Belfast City and Heathrow, as well as UK connections to Avignon, Brest and Toulon in France.
Cirium schedules data shows the former Flybe operation was serving six UK points from Amsterdam prior to its failure, though notably that did not include Belfast City or Heathrow, the airline serving London City instead.
Neither does the intial network include any routes from Exeter, the home base of the former Flybe operation from which it was operating several routes at the point of its demise.
Flybe chief executive Dave Pflieger says: "We think our new flights will benefit everyone who wants low fares and more flights to go on holiday and visit loved ones. Our new network will also ensure better regional connectivity inside the UK and between various UK and EU regions."
The airline, like its predecessor, will operate the routes with De Havilland Canada Dash 8-400 turboprops.
Flybe initial route network
Belfast City to Aberdeen, Amsterdam, Birmingham, Edinburgh, East Midlands, Glasgow, Inverness, Leeds Bradford, London Heathrow, Manchester, Newcastle, Southampton
Birmingham - Aberdeen, Amsterdam, Avignon, Brest, Edinburgh, Glasgow
East Midlands - Amsterdam
London Heathrow - Amsterdam, Leeds Bradford
Southampton - Avignon, Toulon
Routes launching 13 April to 25 August 2022