Berlin's airport operator estimates that it will require more than €550 million ($658 million) in additional funding to support the German capital's recently opened gateway if air traffic in 2021 does not rise significantly above this year's level.
Noting that it already had a deficit before the long-delayed Brandenburg airport opened on 31 October, operator FBB says it pre-crisis plan was based on the assumption that growing air traffic at the new airport would facilitate an improvement in the company's finances.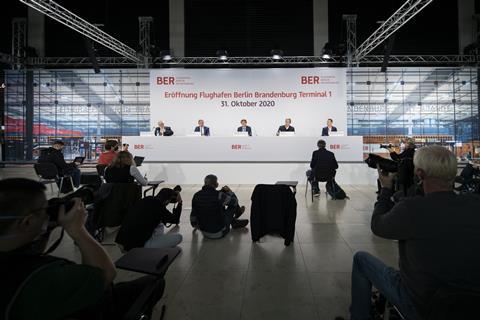 Chief executive Engelbert Lutke Daldrup predicts that 2021 will be "one of the most difficult years in the history of FBB".
"No airport in Germany will be able to cover its operating costs with the predicted passenger numbers. FBB has been hit by the second corona wave in a situation in which we could have made our way out of the red."
He adds: "Now only two things will help: the willingness of our shareholders to support us during the crisis and the company's commitment to work as efficiently and cost-effectively as possible."
FBB estimates it will require up to €660 million in funding if its management's current outlook – that next year's air traffic will not grow significantly – is confirmed.
Noting a financial support package of €108 million which FBB's shareholders – the city of Berlin, state of Brandenburg, and federal government – already agreed in 2018, the operator will require a further €552 million, it says.
Earlier this year FBB received €300 million as part of a government fund to support businesses amid the coronavirus crisis. That package will compensate losses incurred in the current year, FBB says
As a result of the second infection wave, FBB downgraded its 2020 full-year traffic expectation to nine million passengers, from previously 10 million. FBB says that its passenger numbers since October show a 90% decline from pre-crisis levels.
In order to reduce cost, the operator has decided to suspend operation of Terminal 5 – the former Schonefeld facility – for "currently" a year from early 2021, and to discontinue "as soon as possible" flight operations on the airport's newly opened southern runway.
Further savings are being planned.