US start-up carrier Breeze Airways has applied for permission to begin operating international flights as it plans a new route from Los Angeles to popular Mexican vacation destination San Jose del Cabo.
In a 1 May filing with the US Department of Transportation, Breeze requests regulatory approval for scheduled passenger service between Los Angeles International and San Jose del Cabo International airports. Flights would begin operating once weekly in November 2023.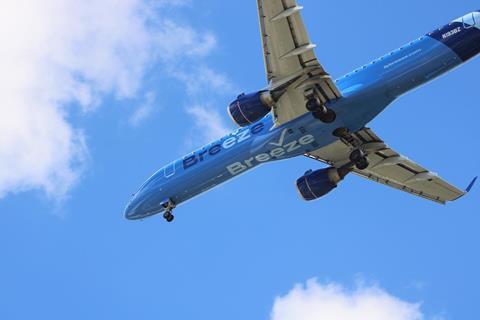 Launched in 2021 by David Neeleman – founder of WestJet, JetBlue Airways and Brazil's Azul – with $200 million in private financing, Breeze is competing in the crowded North American discount market with a fleet of Airbus A220s and Embraer E-jets.
"Consumer acceptance of Breeze's service has been strong, and Breeze has expanded its operations to 35 cities on over 140 routes," the airline says in its application.
The ultra-low-cost carrier first grew its network in the Southeast USA before expanding westward to Las Vegas, Los Angeles, Phoenix and San Francisco. Like fellow start-up discounter Avelo Airlines, Breeze has picked up some of the slack in air service to mid-sized cities, filling demand left untapped after US regional airlines contracted amid the Covid-19 pandemic and, more recently, a shortage of pilots.
"With many markets underserved or poorly served with connecting service over a major hub, local governments and airport authorities also have embraced Breeze's services," the carrier says. "Local authorities continuously approach Breeze about entering their markets or expanding service to meet their transportation needs."
Breeze has 12 new A220-300s in service, with orders for 68 more of the type, and 17 E-Jets, according to Cirium fleets data.