US start-up airline Breeze Airways plans to double down on flying winter travellers south with 11 new seasonal routes to Florida starting in November.
Utah-headquartered Breeze said on 18 July that its planned Florida expansion would include nine wintertime routes to Fort Myers alone, focusing on markets in the Midwest and Eastern USA – Akron and Columbus (Ohio), Louisville (Kentucky), New Orleans (Louisiana), Norfolk and Richmond (Virginia), Pittsburgh (Pennsylvannia), Raleigh (North Carolina) and Syracuse (New York).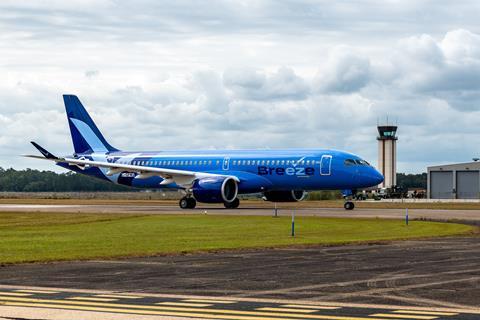 The expansion will also include new flights from Providence (Rhode Island) to Jacksonville and Vero Beach in Florida.
With the additions, Breeze would fly 58 routes to Florida from 28 cities throughout the rest of the USA.
Most of the additional Florida routes flown by the ultra-low-cost carrier (ULCC) will be operasted twice or three times weekly. Breeze did not specify when it would terminate the seasonal flights in 2024.
Launched in May 2021, the start-up focuses on flying between secondary airports to avoid hubs, cut down on overall travel times and capitalise on underserved markets.
The ULCC first grew its presence in the Southeast USA before expanding westward to Las Vegas, Los Angeles, Phoenix and San Francisco – marking the beginnings of a transcontinental network. In addition to likely targeting more airports with poor or no air service, Breeze is eyeing international flights to Mexico.
Breeze operates a fleet of Airbus A220s and Embraer E-jets. Cirium fleets data show that the carrier brought its 15th new A220-300 into service last month.