British Airways chief executive Sean Doyle believes the UK carrier will have sufficient staff to meet demand this summer in contrast to the challenges the industry faced ramping up a year ago.
A bright end to last year, during which BA made an operating profit before exceptionals of €268 million ($284 million) in the fourth quarter -- the highest of any IAG carrier for the period -- helped it back into the black for 2022 as a whole. The carrier's first-half performance had, however, been hit by continued Covid restrictions and challenges ramping up quickly enough to meet the sharp jump in demand once they were eased.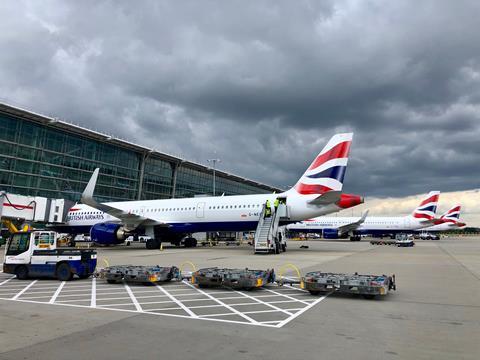 "If you look at our recruitment, and these are variables that we control, we've got about 7,400 people in BA at the end of December, that's up to about 9,100 at the end of February," Doyle said, asked about the summer ahead during a results call today.
"So our recruitment actually begins to tail off in the next couple of months as we are getting resources in the door and training that we need. In terms of our operability, we are in a very good place and a much, much better place than this time last year. And we've done a lot of great process improvement to speed up the referencing and training, so we are seeing the benefits of that in the BA business."
Labour shortages at Heathow airport remained an issue for much of last year, which prompted the implementation of caps on the number of departing passengers at the hub. Those have been lifted and the airport's chief executive John Holland-Kaye has similarly said that the airport is in a "good place" after raising staff levels across the airport to 70,000.
"I think there is a training and learning curve the resources will have to go through, but in terms of numbers of people at BA and Heathrow, it is certainly tracking the direction for the summer that we need," says Doyle.
BA's capacity return continues to lag other carriers within IAG, which it attributes to capacity being capped at Heathrow and the limited reopening of Asia-Pacific markets. BA capacity for 2022 was 70% of pre-pandemic levels, ending the year at a high of almost 80%. By comparison, IAG group capacity stood at 78% for 2022 and Vueling in particular has been flying more capacity than in 2019 since the second quarter.
Despite the lower capacity, BA full-year revenues were almost flat in comparison with 2019 at €3.23 billion. That was supported by strong yield development. Passenger unit revenue was a fifth higher in the fourth quarter than the same period of 2019.
While BA will lift capacity further in 2023, rising to 89% in the first quarter, full-year capacity will remain below 2019 levels at 93%.
Doyle says the airline will wet-lease in some aircraft this summer because of the scale of its ramp-up, but notes this accounts for only a small share. "I think we are taking four to six planes over the summer to complement our core network of about 280. When you put it in the context of the fleet we have, it is not unusual, but it is a transitionary arrangement for summer 2023."
BA will also have use of the Heathrow slots operated by Flybe before its recent collapse, slots the Oneworld carrier had originally released in relation to remedies made as part of its acquisition of BMI a decade ago.
"[They are] a small proportion of the wider slot portfolio we have," notes Doyle. "We've got the winter slots back and the summer slots back. They are available in future for people to apply for the remedy. But the remedy would have to be operated on the basis of domestic operation to Manchester and Edinburgh. So we'll have to wait and see if somebody else applies for it, but that process will take a while and it wouldn't be actually exercisable for the summer."