The number of flights in European airspace is tracking Eurocontrol's 'low' scenario so far in February, despite Ryanair operating at above pre-pandemic levels, as the region's response to the Omicron variant of Covid-19 hits the recovery trajectory.
Traffic in the week of 3-9 February was at 68% of 2019 levels, the European air traffic manager said on 10 February, against a 'low' scenario of 67% for the whole month, which was projected pre-Omicron in October last year. Low-cost airline flights were down 39% for the week and network airline operations down 41%, with higher business aviation, cargo and non-scheduled flights versus 2019 levels offsetting those declines to an extent.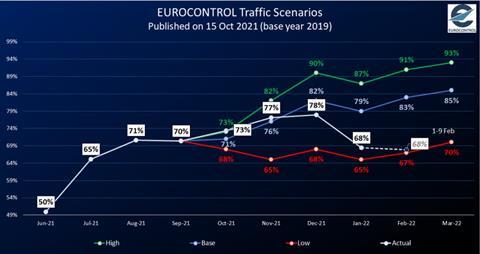 Of the airlines tracked, Ryanair's aggressive reintroduction of capacity means it continues to have an outsized impact on the overall numbers, operating 1% more flights on 3-9 February than it did in the same period of 2019. Ryanair's average of 1,920 flights accounted for around 11% of the average daily total of 17,719 for the Eurocontrol region.
Had Ryanair's flight numbers been down in line with its peers', the overall number of flights in the region on 3-9 February would have fallen below Eurocontrol's 'low' scenario for the whole month.
The Irish carrier's flight numbers were almost double the daily average of 1,003 operated by the next-busiest carrier on 3-9 February, Turkish Airlines, whose numbers were down 20% from 2019.
In third place, EasyJet operated an average of 800 daily flights on 3-9 February, a fall of 46% from 2019, followed by Lufthansa at 720 flights (-50%), Air France at 651 flights (-41%), KLM at 559 flights (-22%), British Airways at 410 flights (-53%), Wizz Air at 355 flights (-22%), Pegasus at 352 flights (-19%) and SAS at 348 flights (-56%).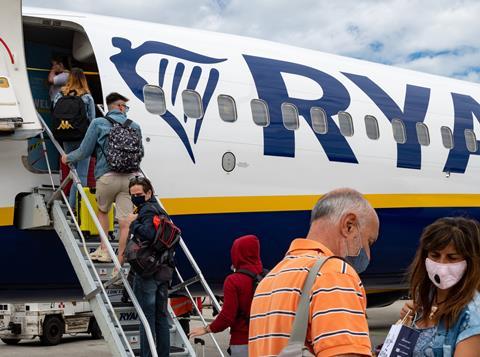 Eurocontrol notes that some states have been relaxing travel restrictions introduced in response to Omicron – and earlier in the pandemic – suggesting the trend may improve in the coming weeks amid high vaccination levels.
Indeed, most airlines in the top 10 busiest for 3-9 February have been increasing flight numbers over the past two weeks, Eurocontrol says, although seasonal factors may also be contributing to that development.
To hit Eurocontrol's base-case scenario in March 2022, flight numbers would need to be at 85% of 2019 levels, with the 'low' scenario being 70%.
Eurocontrol's traffic scenarios were last updated on 15 October 2021, following a July-August period that saw data tracking the previous best-case scenario.
Against the October projection, flight numbers in November tracked just ahead of the body's base-case level, at 77% of 2019, before Omincron hit in December. Flight numbers in the latter month then dropped slightly below Eurocontrol's base-case scenario of 82%, at 78%, before declining to 68% in January – 11 percentage points below the base case and just above the 'low' scenario.
Number of flights is just one measure of air traffic and tends to be more immediately available than other key metrics such as passenger numbers, load factors, available seat kilometres and revenue passenger kilometres.