Start-up carrier Canada Jetlines has recently shown intention to expand its charter operations beyond North America.
The carrier has a six-month contract with Caribbean carrier Fly AllWays to operate weekly charter flights between Toronto and Georgetown, Guyana. The airline said on 6 July that the flights are expected to begin in the third quarter, pending approval from the Guyanese government.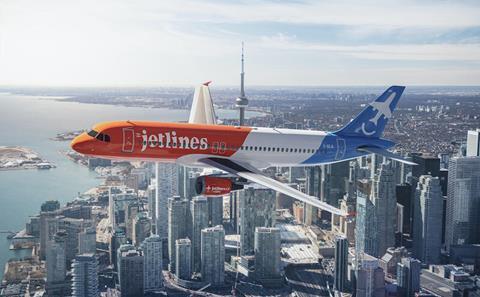 On 28 June, the carrier said that it had recently received a foreign air operator certificate from the Jamaican government, and had also been cleared to fly in the North Atlantic by Transport Canada, allowing "numerous charter flights to Greenland this summer".
Jetlines has further plans to bid on wet-lease contracts – through which airlines provide the aircraft, crew, maintenance and insurance (ACMI) – for the European summer travel season in 2024, pending its application for an EASA-issued third country operator (TCO) certificate, which it expects to obtain in the third quarter.
The planned flights between Toronto and Georgetown, the capital of Guyana, will capitalise on "substantial demand" for the route, says Jetlines' chief executive Eddy Doyle.
Chartered operations to domestic and international destinations have emerged as a significant share of the airline's business, Doyle adds: "In addition to our regular flying, we have experienced strong demand for charter and ACMI/wet-leasing flying, and the flight hours contemplated in this contract will keep one of our aircraft fully utilised."
The Toronto-based airline currently operates two Airbus A320s – both configured to seat about 180 passengers – with a third of the type scheduled to be delivered this month. It plans to expand its fleet to 15 aircraft by 2025.
The discounter entered the North American passenger market in September 2022 and currently operates scheduled flights between Toronto, Cancun and Las Vegas.
Based in Suriname, Fly AllWays operates scheduled and charter flights to Havana, Santo Domingo, Georgetown, Barbados, Aruba, Santiago, Sint Maarten, Jamaica and other destinations in the Caribbean. It currently operates two Fokker 70 regional jets and one de Havilland Canada DHC-6 Twin Otter, according to Cirium fleets data.