Canadian leisure carrier Air Transat looks to gain a greater foothold in Mexico and South America starting in December.
"This strategic expansion allows us to diversify our long-haul offering by maximising the use of our [Airbus] A321LR aircraft, and to capitalise on the sustained growth of tourism in South America," Michele Barre, Transat's chief revenue officer, said on 11 August.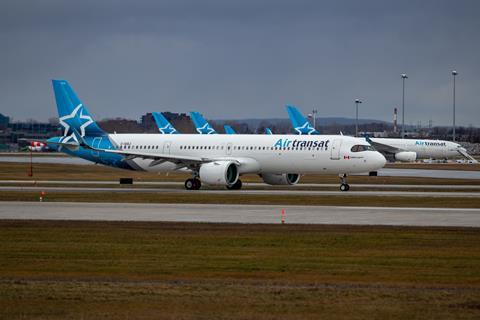 The Montreal-Lima route will fly once weekly from 22 December to 26 April, while the Toronto-Lima flights will be operated twice weekly from 20 December to 24 April.
The carrier is also "consolidating our presence in the Mexican market – a key destination of our Caribbean winter programme" by restarting flights from Montreal to Cozumel. Those flights will be operated once weekly from 15 December to 26 April.
All three routes will be flown with Transat's A321LRs, which are configured with 199 seats and have a range of about 4,000nm (7,400km). Cirium fleets data show that the carrier has 13 of the long-range narrowbodies in service.
The airline plans to operate up to 19 A321LRs by the end of 2023 as part of a long-term fleet renewal strategy that is "the cornerstone of our growth", Transat chief executive Annick Guerard said during the company's earnings call on 8 June
With the A321LRs, Transat has focused on strengthening its position on niche routes between cities in eastern Canada and western Europe, and now looks to gain a greater foothold in Latin America.
"This programme expansion will create a new gateway to South America… in addition to the flights already offered to Colombia," Transat says.
The carrier's winter schedule includes flights to Cartagena, Colombia. Transat also has a code-share agreement with Colombia's Avianca Airlines that connects passengers to Bogota and Medellin.