Canadian discount carrier Flair Airlines' summer schedule for 2024 includes twice as much flying to the USA and new routes to Quebec City and Guadalajara, Mexico.
The Edmonton-headquartered carrier said on 1 November that it plans to increase capacity from its aircraft bases in Toronto and Kitchener, Ontario by 25% during the upcoming Northern Hemisphere's summer travel season.
Additionally, it is planning to step up flights to US cities such as Nashville, New York, Los Angeles, San Francisco, Las Vegas, Orlando and Fort Lauderdale by nearly 100%.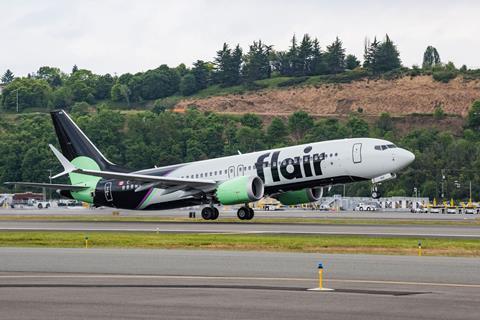 Flair plans to launch thrice-weekly flights between Toronto Pearson International airport and Quebec City on 6 May, with flights from Vancouver International airport to Guadalajara starting on 31 May.
"The last time Vancouver was connected nonstop to Guadalajara was 2004," Flair says.
The carrier says it is also seeing "positive demand … for winter flights to the US, Mexico and Caribbean". Flair recently announced new service from Calgary to Cancun, and new flights between Toronto and Kingston, Jamaica beginning in December.
Operating 20 Boeing 737s, Flair primarily flies from Canada to popular vacation destinations in the USA and Mexico. Its network includes about 35 cities.
The carrier began scheduled flights in 2016 for a brand called NewLeaf Travel Company, then in 2017 acquired NewLeaf's assets and began operating under the name Flair.
Flair has previously said it plans to eventually grow its fleet to 50 aircraft.