Airlines in Canada during the coronavirus pandemic have lost 23% of their market share on international routes to competitors in Europe and the USA whose governments have provided sector-specific relief funds, WestJet chief executive Ed Sims said during an online discussion hosted by multinational aviation group Eurocontrol on 2 March.
The Calgary-based airline has been hit with "a double whammy" that forced it to dramatically reduce capacity amid a lack of federal airline stimulus and restrictions for domestic and international air travel, Sims says.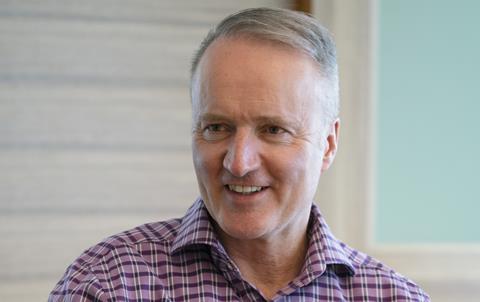 Governments have provided around $200 billion to airlines since the start of the coronavirus pandemic, according to Eurocontrol data, while Canada has only provided a federal wage subsidy to companies impacted by the pandemic instead of direct aid to any specific industries. This has resulted in what Sims says is a "scandalous" situation that forces WestJet and other Canadian carriers to reduce flights and allow competitors based in other nations to capture market share.
"We're operating every single day at an enormous structural disadvantage to Lufthansa, to Air France, to Delta / KLM," Sims says. "We have lost 23% market share to international carriers, and I think that is disgraceful."
WestJet's capacity on international flights during February was down 98% year on year compared with that month in 2020, Cirium schedules data shows. Capacity on Air Canada's international flights during February was down 89% year on year compared with the final month before the World Health Organisation declared coronavirus a global pandemic that March. Air Transat's international capacity during February was down 99% year on year.
The USA and France are two nations that Sims says are gaining market share on international routes in part because their governments had provided industry-specific aid to airlines. International capacity for Delta Air Lines during February was down 53% year on year, while capacity on international routes for Air France during that month was down 62% year on year.
Carriers in the USA have burned through cash since the start of the pandemic but federal support from the CARES Act covers payroll for workers and offers opportunities for government loans in exchange for conditions including minimum service flight schedules. Canadian airlines are not beholden to Ottawa for conditions in exchange for aid, a silver lining of which Sims says "prevents us from becoming semi-nationalised".
Ottawa is discussing conditions for airline aid, but Sims says the government is wary of sector-specific aid. He also argues there has been a lack of motivation to provide airline-specific aid during the past year because air travel is viewed as an agent of spreading coronavirus and international travel during this crisis is viewed as "unpatriotic".
Sims also assigns blame for Canadian airlines' loss of international market share on "the toughest border restrictions in the world with the exception of maybe Argentina".
Airlines in Canada, Sims says, face a more complicated pandemic response because of a "patchwork" of rules imposed by the nation's different provinces. Canada's federal rules also include a pre-boarding test requirement, a ban on non-essential travel for foreign nationals and a mandatory 14-day quarantine for international arrivals.
The Canadian government in January stifled the hopes of WestJet and other airlines in that nation to generate revenue from flights to sun destinations during the lucrative spring break period.
Ottawa has halted all flights to the Caribbean and Mexico through 30 April to prevent the spread of new, more contagious coronavirus variants. Passengers arriving in Canada from other nations as of 22 February must also land only at airports in Calgary, Vancouver, Toronto and Montreal to more efficiently co-ordinate the testing of travellers for coronavirus upon arrival. After being tested for the virus, international travellers must wait up to three days for results at an approved hotel at their own expense, which Canada's prime minister Justin Trudeau estimates could cost "more than $2,000".
Airlines in Canada have reduced staff and grounded aircraft in response to the travel restrictions, while Toronto-based regional carrier Porter Airlines has temporarily shuttered operations until May. WestJet started 2020 with 14,000 employees yet is now "operating with around 4,000 people", Sims says.
"I've lost 71% of my staff" since the start of the pandemic due to voluntary or involuntary furloughs, Sims says.
Canada's coronavirus infection rate is lower per capita than that of the USA, World Health Organisation data shows. Travel restrictions in Canada may be playing a role in that lower rate.
CONSOLIDATION AMID PANDEMIC
The pandemic has also created the risk of more airline consolidation, Sims says, potentially by loosening scrutiny of mergers but also by loosening restrictions on foreign investment in carriers. The chief executive of WestJet has been critical of the proposed acquisition of Air Transat by Air Canada, which would merge the third-largest and largest carriers in Canada.
Air Canada's proposed acquisition is in doubt after the European Commission missed the 15 February deadline the companies targeted for approval of the deal. The Montreal-based tourism provider and parent company of Air Transat says in a statement that it is discussing "potential amendments" to the deal that could incentivise European regulators to approve of the acquisition. Air Canada has attempted to buy Transat since 2019, although the coronavirus travel downturn prompted a revaluation of the purchase price.
"There will undoubtedly be further consolidation," Sims says. "The pandemic is being used as an umbrella for changes that would be unacceptable in other circumstances.
"It worries me that a number of nations are only looking to prop up the flag carrier and not thinking about competition."
Vaccination is the path to steady recovery for air travel, Sims says, yet he cautions against the approach taken by Australian flag carrier Qantas, which requires proof of vaccination for international flights. Ottawa aims to provide vaccines to every Canadian citizen who wants one by September. To make people feel safe on airlines once again Sims says "pilots and flight attendants should be among the first to be vaccinated".