Cathay Pacific has made further "substantial reductions" to passenger and cargo schedules through March, citing tightened quarantine requirements, as well as travel bans imposed by the Hong Kong government.
The beleaguered carrier confirms that it will only operate 2% pre-pandemic passenger capacity — down from 10% — in January, as well as operate at 20% capacity for its cargo business, down from an earlier estimate of around 71%.
The announcement on 6 January comes barely a week after Cathay made a first round of schedule cuts amid stricter quarantine rules for Hong Kong-based crew.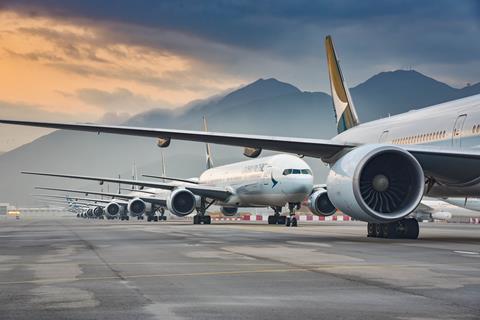 Hong Kong on 4 January announced sweeping restrictions aimed at curbing a fifth wave of coronavirus infections, including imposing a two-week ban on flights from eight countries, including the USA, India, Britain and Australia.
The city has a strict 'zero-Covid' strategy in line with Mainland China — one of the last remaining places to maintain such a policy even as other countries reopen borders.
Cathay says in its latest update: "These restrictions continue to impact our flight schedule and, consequently, will further reduce our passenger flights to and from Hong Kong from now until tentatively the end of the first quarter of 2022 (March 2022)."
Checks on Cathay's schedules for January show the airline only operating a handful of destinations with frequencies cut back. Several cities in Asia, North America and Europe will only see just one flight operated during the month.
As for cargo, which had been a revenue lifeline for the carrier, schedules through March show no flights operating to Europe and the Southwest Pacific regions.
Adds Cathay: "Our regional freighter services, however, will continue to operate as scheduled and we will continue to explore opportunities to increase regional frequencies to meet demand."
In a separate statement to FlightGlobal, the carrier states: "Cathay Pacific will partially resume long-haul cargo services from 7 January while retaining regional cargo services. We will adopt measures to operate as many cargo services as possible while complying with the latest Covid-19 regulations. It will also strive to maintain passenger connectivity with key destinations, although at reduced frequencies, under the confines of the place-specific and flight-specific suspension mechanism."
The Omicron wave is just the latest blow to hit Cathay, which has on previous occasions warned that tightened measures have caused "operational constraints". Already the carrier has warned of a "substantial" full-year loss for 2021.